Mira Costa graduate and Princeton student/athlete, Melia Chittenden, receives the 2021 Art Lane '34 Award!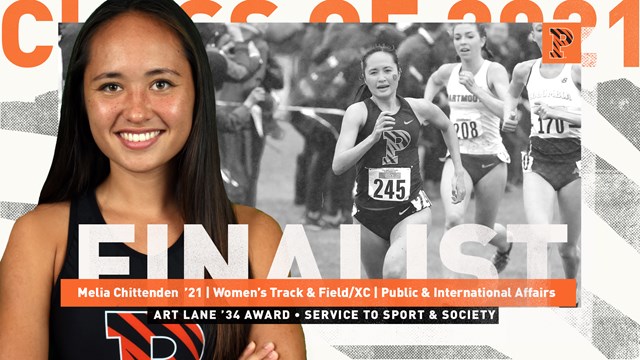 Melia Chittenden is a two-time cross country/track & field team captain and a First Team All-Ivy and All-Region honoree. She qualified for the NCAA Cross Country championship in 2019, and has been named an NCAA Academic All-American three times.
Chittenden helped lead her team's partnership with the Smith Family Foundation in Trenton, N.J. to provide headphones to 2,000 underprivileged students to aid with virtual learning. She has also served as a community outreach intern for the catholic charities of central New Mexico, supported immigration efforts for the International Rescue Committee, participated in the Princeton Asylum Project and tutored incarcerated individuals through the Princeton-based Petey Greene Program. Chittenden, a Student-Athlete Wellness Leader, was selected as a presenter at the Mary George Research Conference, discussing her research on the exploitation of nannies and domestic workers.
Chittenden, from Manhattan Beach, Calif., is a student in the Princeton School of Public and International Affairs while also holding minors in Arabic language & culture, Near Eastern studies and cognitive science.
Click Here for article