Camp Galileo
Location:
Robinson Elementary School
80 Morningside Drive
Manhattan Beach, CA 90266
Dates:
June 20 - August 11, 2023
A SUMMER OF IMAGINATION AWAITS!
CAMP GALILEO RETURNS TO ROBINSON THIS SUMMER!
At Galileo, we take the fun of traditional day camp and mix it with thoughtfully crafted, hands-on projects in the fields of science and engineering to visual arts and leadership training.
Supported by the boundless energy and experience of the best staff around, Galileo campers grow with us from Pre K to 10th grade, emerging as confident creators ready to express themselves fearlessly, lead boldly and turn their ideas into reality! Campers in PreK – 6th grade participate in our award-winning program and campers in 7th – 10th grade participate in our Counselors in Training program. 
At Camp Galileo, pre-K – rising 10th graders engage in hands-on, STEAM-based learning that captures their imaginations and builds lasting skills. Supported by the best staff around, kids get inspired to turn their ideas into reality—and have the summer of their lives! Optional AM/PM extended care is also available.  www.galileo-camps.com
Every week brings a new adventure, with activities tailored by age and wrapped up in a whimsical theme:
AMUSEMENT PARK ADVENTURE: Step right up to a playful park of your own design.
CASTLES AND QUESTS: Embark on an epic journey to medieval times.
DINOSAUR DIG: Unearth an adventure of prehistoric proportions.
COUNSELORS IN TRAINING: CITs spend an unforgettable summer taking charge and taking on new challenges, including mentoring younger campers, pitching in with camp operations and building leadership skills.
Please see our website for detailed descriptions of the various camps and view the Manhattan Beach Flyer 2023: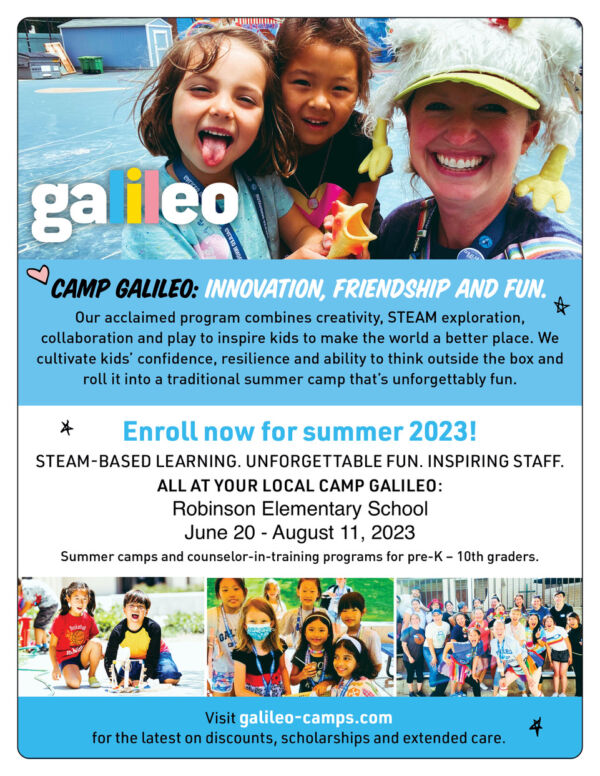 .