Camp RAD
Location:
Manhattan Beach Middle School
1501 North Redondo Ave.
Manhattan Beach, CA 90266
Dates:
July 26 - 30 - FULL
August 2 - 6 - FULL
August 9 - 13

9am - 2pm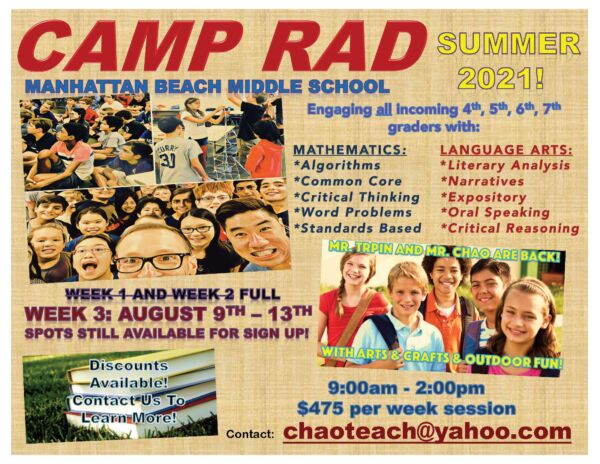 Camp RAD is a fun all-encompassing academic prep camp.  It is personalized instructional support in Mathematics and English Language Arts in the morning, balanced with fun activities including outdoor games, art, and drama in the afternoons!  A wonderful opportunity for incoming 4th through 7th graders to get ahead, or brush off some learning cobwebs and gear up for school!  Camp RAD's focus is providing Common Core Math, Writing, and Reading lessons for academic reinforcement and acceleration. We want to see students get a great start to the school year!  An all-in-one camp providing a fun and productive day! Hosted by Manhattan Beach Unified Math and English teachers Mr. Chao and Mr. Trpin.
Hours:  9am – 2pm
Dates:
Week 1:   July 26 – 30 FULL
Week 2:   August 2 – 6 FULL
Week 3:   August 9 – 13
Cost: $475.00/week
More information can be found HERE.