Girls Water Polo starts Bay League with 2 wins!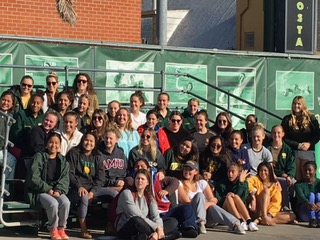 It was a very successful vacation break for Mira Costa Girls Water Polo.  On December 21st, the Varsity team overwhelmed Capo Valley with a score of 13-4.  The following day, the girls got together with twenty former Mira Costa Water Polo teammates who took on the Varsity team for the annual Alumni Game and breakfast.  It was a great morning of friendly competition and catching up with good friends.  The new year brought the start of Bay League competition at Palos Verdes HS and another win as Varsity defeated the Sea Kings 9-5.  Then the girls celebrated the start of the new term on a rainy Monday by routing the Peninsula Panthers 16-7 in their second Bay League win of the season.  Varsity is 2-0 in Bay League wins and 6-4 for the season.  The girls will embark on a two week away game streak, traveling to Santa Monica, Torrance and San Diego.  The next home game is Thursday, 1/25 against rival Palos Verdes.  Save the date to come experience some high quality water polo!
The JV team was also busy over the break with their first Bay League game against Palos Verdes and the Laguna Beach Tourney last weekend.  While the girls faced some stiff competition, they had a lot of game time practice and pulled together as a stronger team. The high scorers were Lauren Chiu, Avery Berman and Hunter Murray.  The tournament practice paid off, as the JV team came back with a strong start to the new semester and a resounding 11-2 win over Peninsula on Monday.  The JV team hosts six teams for the Costa JV Tourney this weekend, Friday 1/12 – Saturday, 1/13 at the Mira Costa Pool.  Come cheer on your JV Girls Water Polo team and get some tasty treats at the Snack Shack too!