Mira Costa Boys Volleyball is the CIF Division 1 Runner-up; Headed to State Semi-Finals!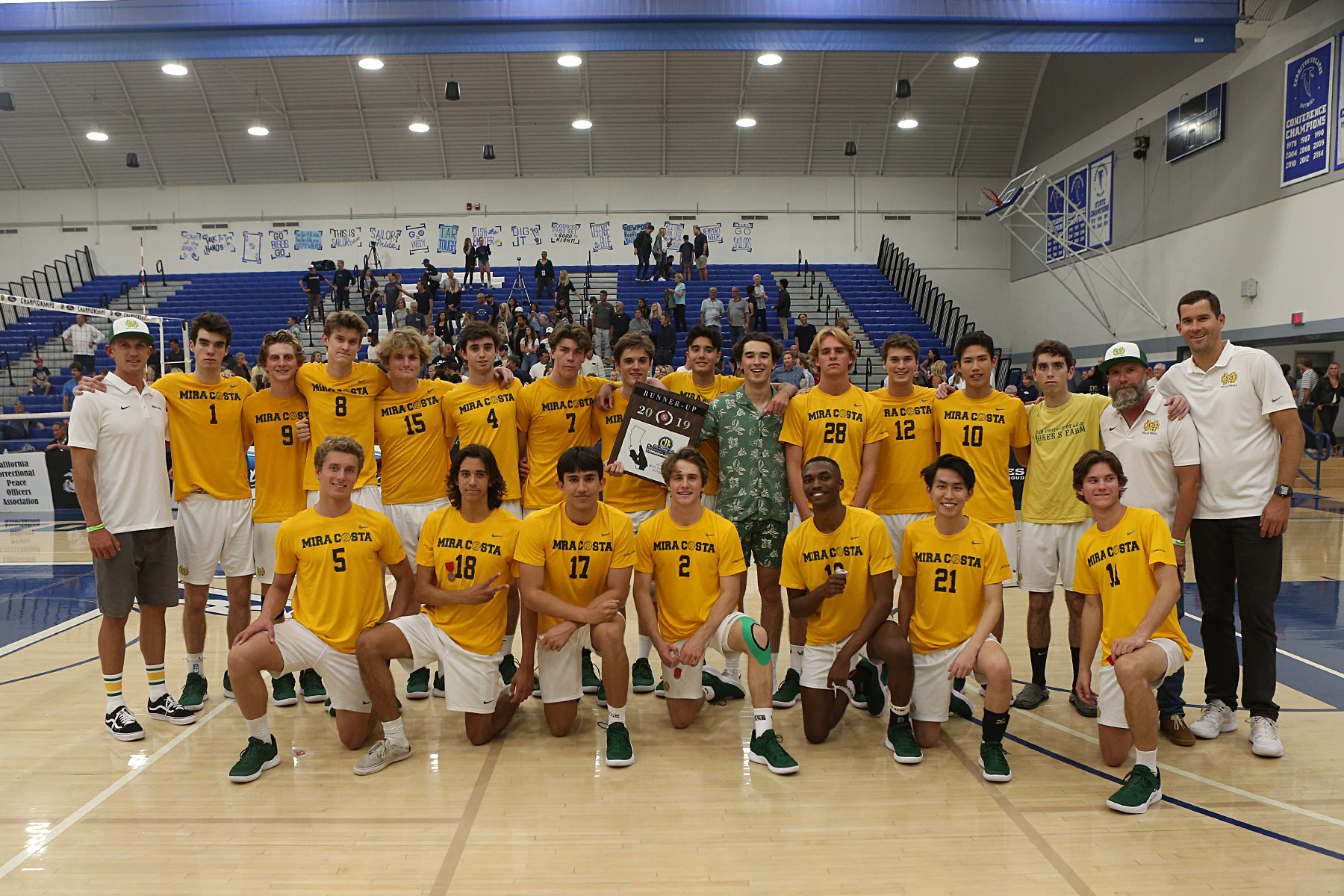 Mira Costa, currently ranked #3 in the nation, had a great run through the CIF Championships. With only 16 teams qualifying into the Division 1 playoffs, the competition was tough from the first match. Costa defeated a strong Los Alamitos team in 3 straight sets. In the quarter-finals, Costa traveled to Huntington Beach High School, defeating this volleyball powerhouse again in three straight sets. Next up in the semi-finals was a rising Santa Barbara team that had taken out last year's CIF champion, Corona Del Mar, in the quarter-finals. Costa was on the road for this match, and Santa Barbara packed the gym for their first semi-final in school history.  Costa got off to a slow start, losing the first set. But, from there, gained momentum and prevailed in a 4-1 thriller. With this win, Costa punched its ticket to the Championship game against the #1 nationally-ranked team, Newport Harbor.
Costa's appearance in the CIF Division 1 Final was its first since 2012. Costa encountered a strong Newport Harbor team–a team that had made the final last year, only to lose to Corona del Mar. Newport Harbor returned five starters from that runner-up team. With a packed gym at Cerritos College, Costa lost the first two sets 20-25 and 23-25. Costa came back strong in the third to win 25-16. Yet the Sailors took the fourth set, in another close finish of 21-25, to win the match.
Boys Volleyball would like to thank all the students, alumni, administrators, members of the cheer squad, and members of the community who drove nearly an hour to cheer them on in the Final.
And it isn't over yet! The Mustangs played their first CIF State match on Tuesday at home at El Camino against Westview. With every Costa player on the team seeing playing time, the Mustangs defeated this CIF San Diego Section Champion team, 3-1.
Costa now faces the CIF LA City Section champion, Pali High School, in the State Semi-Finals, on the road at Pali on Thursday.