Costa Volleyball Wins Bay League; makes it to the quarter-finals for CIF!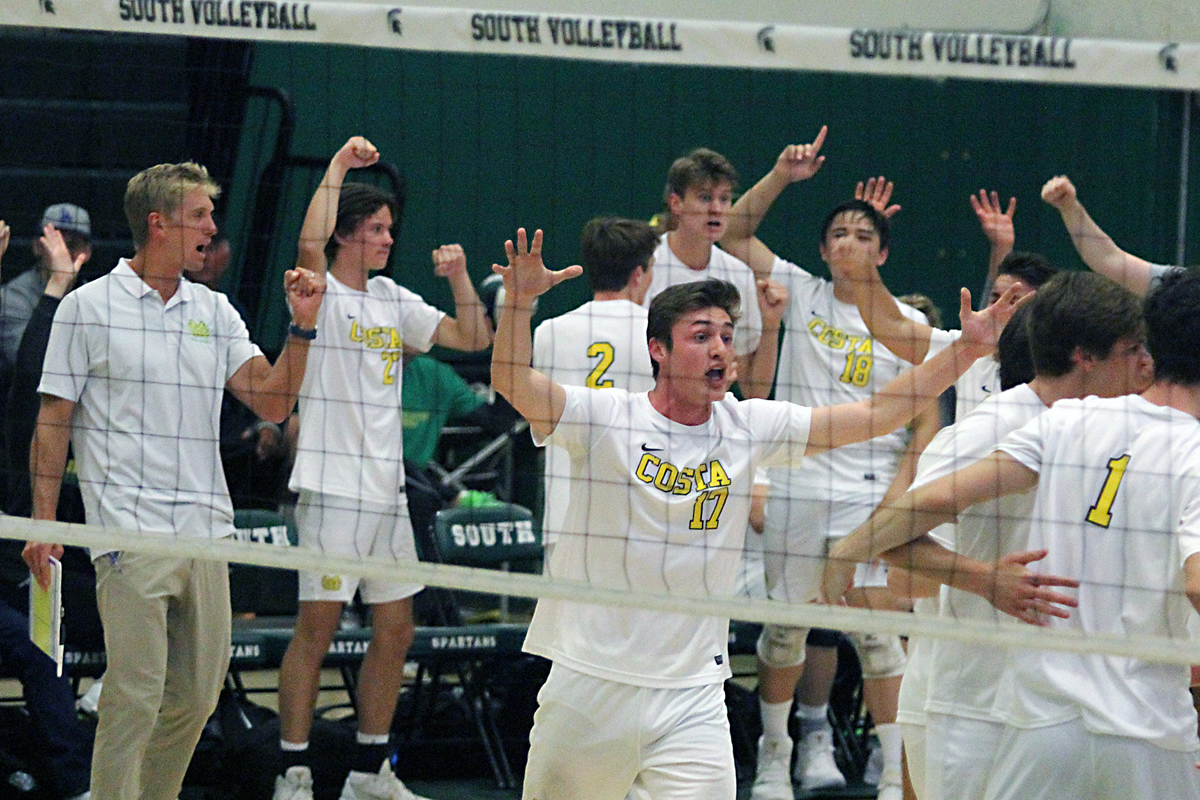 Mira Costa defeated Redondo Union on the road in its last league game of the season to take the Bay League title outright, with a record of 9-1.
Costa was seeded 5th going into the CIF playoffs. The team first faced Aliso Nigue High School, winning easily in three sets in a match that saw every player on the team make a contribution on the court.
In the second round, Costa traveled to Irvine for a match up with Beckman High School.  Costa came out strong in the first game, easily defeating Beckman. Beckman took the second set, and then Costa came back to win the 3rd and 4th sets.
In the quarter-finals, Costa faced a very strong South Torrance High School, with only one loss during the entire season.  The match was played at South Torrance, in front of a sold out gym. Costa got off to a slow start, losing the first game. Costa easily won the second game and also took the third. Although Costa was ahead in the fourth, South Torrance did not give up and came back to win, sending the match into a tie-breaking 5th set. The teams battled back and forth, with South Torrance ultimately winning on a 14-16 finish. In this final game, seniors Bobby Barkley, Dane Johnson, and Max Cajuste and sophomore Sam Collins played as hitters, junior Lauch Farris as libero, sophomore Dain Johnson and junior Adam Sevier as middle blockers, sophomores Luke Snyder and Jack Walmer as setters, and junior Chase Pinkerton and sophomore Jack Hopkins as serving/defensive specialists.
In all, it was a great season for Costa Volleyball. All three teams won the Bay League outright—with Frosh-Soph and JV undefeated. Frosh-Soph won the Burbank Tournament, and JV had an undefeated season, winning all three tournaments they entered as well.