Costa Swim's clean sweep at Bay League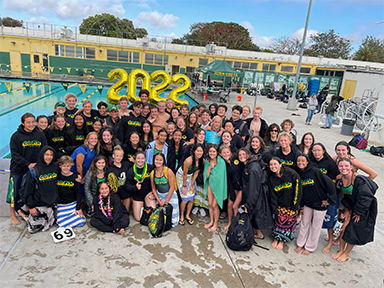 The team is undefeated all season, has won every single meet, and 16 qualifiers are heading to CIF D1 championships.
The Mustangs won a remarkable 23 out of 42 events, breaking multiple Bay League records including the girls' varsity 200 medley relay (swam by Mia Crisera, Iyanah Samayoa, Delaney Herr, and Shea Steggell) and 200 freestyle relay (swam by Maya Manasfi, Shea Steggell, Katie Kabealo, and Mia Crisera) and the boys varsity 200 Medley relay (swam by Zack Yakubik, Ben Tunila, Brad Diaz, and Denzel Tate) and 400 free relay (swam by Brad Diaz, Kyle Capili, Zack Yakubik, and Denzel Tate). Additionally, Costa Varsity Freshman Delaney Herr broke the Bay League record in the 100 fly. All these races also qualified for CIF.
Read more in the 2022 Costa Boys Bay League Champions release 4.30…