Costa Surf Team shows talent in Kick Off Classic!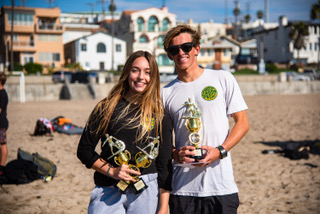 The Costa Surf Team had a very busy few weeks. They started the season with the Kick Off Classic held over 3 days with a majority of the athletes making it on to round 3 and beyond. Costa had 4 out of 6 athletes participate in the Mens SB Finals including sophomores Daniel Boos and Jake Rosenberg, junior Leo Shleyer. Senior Alex Fry won the entire event.
They also had a great showing in Womens SB with again 4 out of 6 athletes making the finals including Freshman Ava Miller, Juniors Megan Seth and Ashley Weaver. Senior Kyra Williams won the whole event. Although they did not have a Mens Longboard finalist, they dominated Womens LB finals with Juniors Megan Seth and Ashley Weaver and Seniors Emily Eddins and Kyra Williams. Kyra Williams won this event, taking first place.
Congratulations to all the athletes. What an amazing showing for Costa Surf.
The week following the Kick Off Classic, Costa had their first head to head meet versus Penn. Costa dominated from the first heat to the last heat, with a final score of 101 to 46. A perfect contest is a total of 105 points, and Costa Surf came extremely close to perfection with their first great performance of the season.
Their next contest is scheduled for the week of Halloween.
Remember to support Costa Surf by purchasing the Surf Discount Card available NOW!
$20 for a years worth of local discounts!