Mira Costa Softball honors their seniors: 12-2 win over Palos Verdes!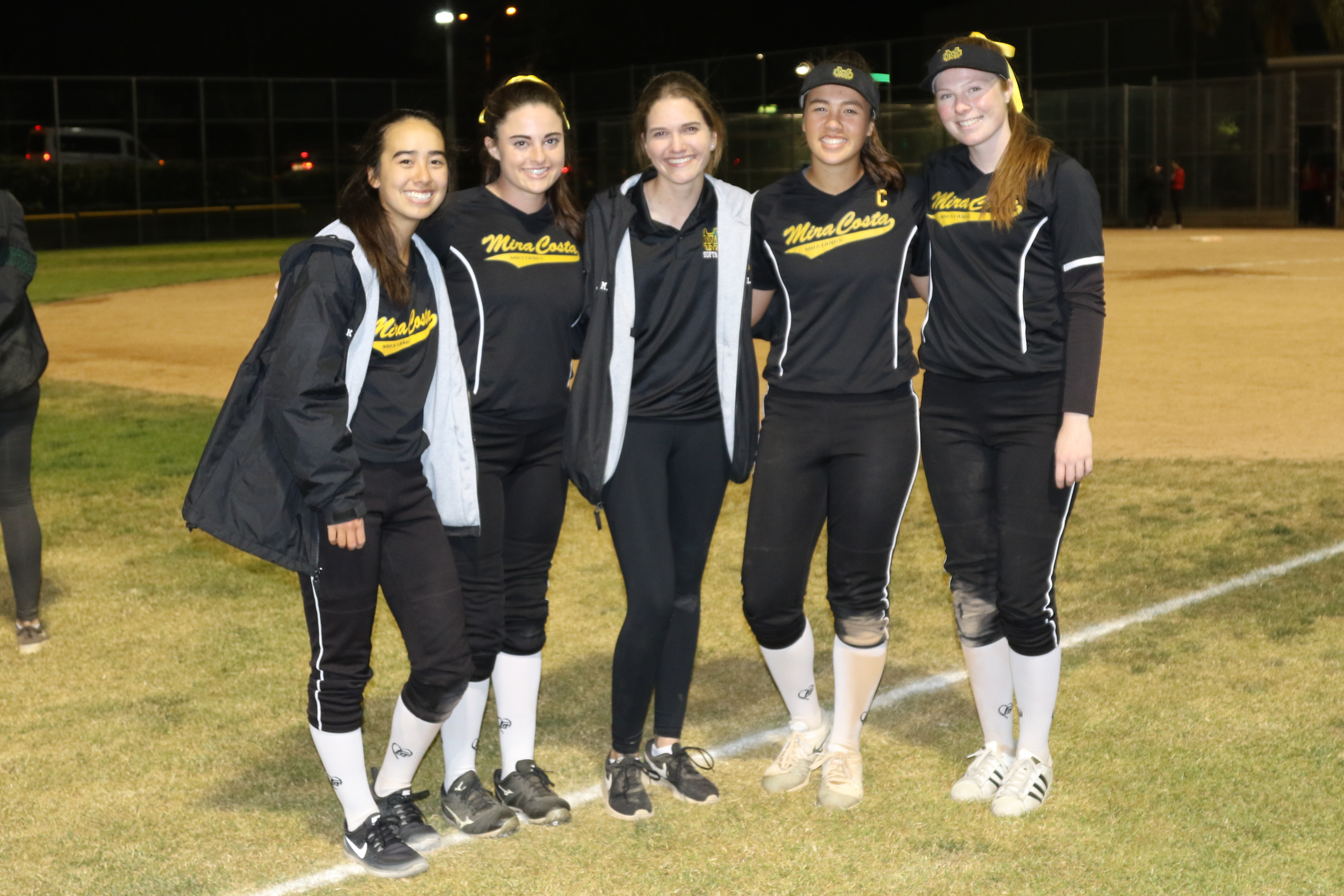 The Mira Costa softball team hosted Palos Verdes at Marine West on May 1st for their Senior Night game. It was an important league game with the winner poised to take the Bay League title this season. Mira Costa won 12-2 in 6 innings! Senior Hannah Lewis was at the plate when the winning run scored on a wild pitch. The Mustangs have 2 remaining regular season games, against Inglewood at home at 3:15PM on May 4th and at Redondo next week on May 9th at 7PM. CIF playoffs begin on May 15th. Brackets will be posted on the CIF website at https://cifss.org/sports/softball/ by May 14th. The Mustangs have deliberately played multiple challenging non-league opponents this season to prepare for playoffs. Their overall record is 15-10-1 (5-1 in Bay League), with key wins over Division 2 Rio Mesa (2-1) and Division 1 Pacifica of Garden Grove (2-1). They also tied Division 2 Agoura (1-1) in their very first game of the season. They split a double-header with Division 2 local rival North Torrance (2-3, 9-3) and lost close games to both South Torrance (7-8) and West Torrance (3-2). All three Torrance teams are highly ranked this season.
The team will be graduating five seniors this year: Grace Herron (3B), Serena Ponciano (SS),  Katie Gould (2B), Hannah Lewis (OF) and Grace Martens (Team Manager).
Serena Ponciano will be attending and playing softball at New York University (NYU). She hit .415 on the season with 21 RBI's and 2 home runs, the team leader in batting average, RBI's and home runs.
Katie Gould will be attending and playing softball at Washington University in St. Louis. She hit .400 on the season and led the team with 36 hits, 2 triples and 22 runs scored.  She also turned 8 double-plays.
Grace Herron will be attending Loyola Marymount (LMU). She hit .329 on the season with 18 singles, 5 doubles and 1 triple and 11 RBI's.
Hannah Lewis will be attending the University of Florida. She was nearly perfect in the outfield this season with a .944 fielding percentage, and also scored 3 runs and had 2 RBI's.
Grace Martens will be attending the University of Pennsylvania (Penn). She kept the team organized during their busy season and was a critical part of the staff.
Click HERE for The Beach Reporter article; Mira Costa softball splits games in La Mirada opener