Costa Lady Ruggers Celebrate Their Class of 2020!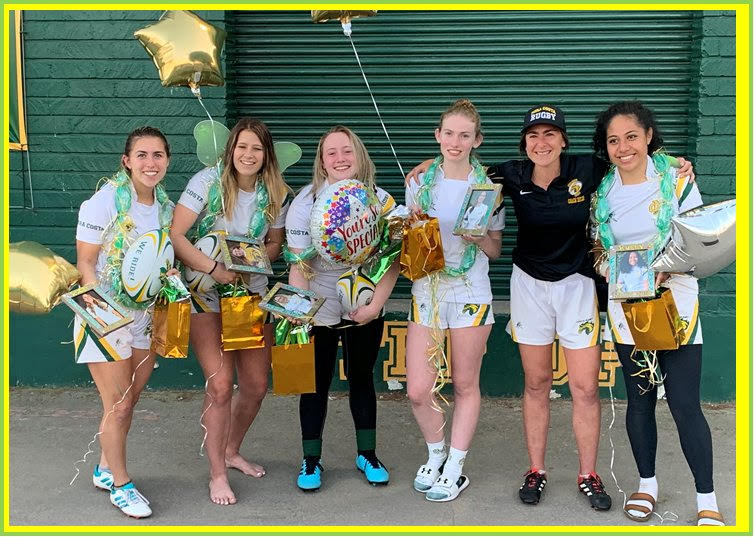 The Mira Costa Lady Ruggers are finishing up a very successful year!  The Mira Costa Lady Ruggers showed complete dominance in a tournament at Lakewood High School as they hammered their opposition. Unfortunately, the following week they struggled mightily at their tournament in Los Alamitos, as scheduling conflicts forced the girls to play short-handed.  Regardless, it has been a successful year as the girls showed consistent improvement as well as ex­tremely hard-nosed play. The Costa girls play fearless rugby!
Recently the girls honored their Senior class (left to right in the photo below:
Hailey Staszkow: First year player headed to James Madison to play for the Dukes
Alyssa Boras: The most dominant Mustang on the pitch as well as a cheerleader in her other job
Katelyn Ross: The most physical and vicious tackler on the team. The spirt of the side.
Sophia Vaughn: The surest tackler on the team. The backbone of the girls program.
(Coach Ali Taylor)
Fine Tuitupou: The heart of the team. Best player on the team. Unbelievable Rugby IQ
These are some wonderful young ladies that have contributed so much to the program. We are so proud of what they have done and excited to see what they will achieve in the future. They are true representa­tions of Mira Costa Rugby as well as the Rugby Culture. They will definitely be missed, but the program looks forward to them coming back as Old Girls. Well done ladies!