Costa Ruggers Fall To San Clemente On Senior Night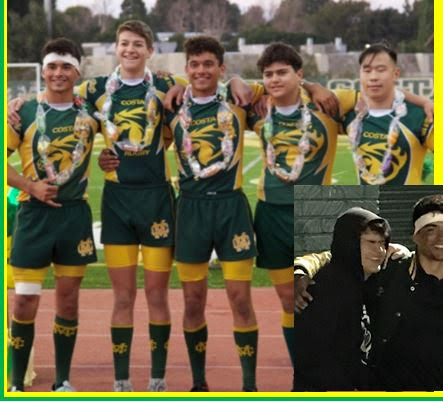 The Mira Costa Ruggers were back home, following their 14-38 loss at La Costa Canyon, to take on the 2nd place San Clemente Tritons.  The Tritons had few issues dealing with the Mustangs as they handed Costa a 15-50 loss. The Mira Costa scoring was limited to a 23 meter penalty kick by Fly-half Giuseppe Meola early in the first half, which ended 3-29. The Triton maintained possession for much of the first half forcing the Mus­tangs to play defense for the vast majority of the half. The Costa boys displayed great fortitude in battling the much bigger Tritons.  It has been the issue for the Mustangs all year as they have been basically playing the Varsity football teams from each of their opponents, while the Mustangs have not one Junior or Senior football­er on their side. It makes for a massive disadvantage for Costa, not to mention a great sport that the Costa foot­ballers are missing.
Nevertheless, to show their herculean effort, the Mustangs fought extremely hard in the second half as they gained possession numerous times and pressed the matter to San Clemente. Captian Scrum-half Christian Hunter took a ball blindside off a 5 meter scrum to find pay dirt.  Meola converted. Not long after it was Meola found a gap in the Triton defense as he darted into the Try Zone.
The Mustangs boys are full of fight, and despite another lopsided loss they nevertheless battled all night long. Despite the long odds they fought to the final whistle.
The night did belong to the Seniors as they were honored by their teammates:  Backs Captain Sean Cascadden who will be moving on to the Naval Academy to become a Marine, Prop Noah Im one of the most physical Mustangs; Number 8 John Darcy who struggled his 3 previous years to find a spot in the lineup only to become a huge force in the Forward Pack; Tony Cascadden who has Captained the JV 7s side to many wins and who is headed to the Coast Guard; and Forward Matt Vensel who unfortunately suffered an ankle injury in the off-season.  They have contributed so much to the Costa Rugby program and we appreciate their hard work and dedication to our Family.  Well done Boys!
Junior Varsity Update
The Mira Costa Junior Varsity continue to show improvement as they compete in the Southern California 7s league. Led by Tony Cascadden, the Mustangs have had some extremely exciting matches. Saturday they had some mixed results, but ended the day with a crushing 35 to 5 win over Warren High School (Downey, CA).