Costa Ruggers hammer Fallbrook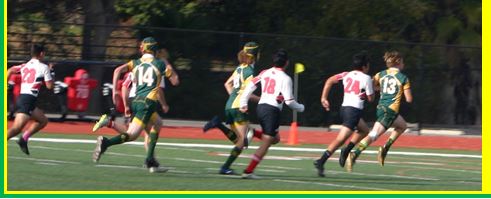 The Mira Costa Rugby team travelled south to Fallbrook, after coming off of a severe beating by Torrey Pines the week before.  Costa looked ready to even up their 1 – 2 record.
On a beautiful day for Rugby, the Mustangs immediately pressed the Warriors deep into their own half. Less than 4 minutes into the match Senior Prop Noah Im took a loose ball in from 6 meters out for a 5 nil lead. Minutes later Inside Center Jaggar Tavai passed to Soph Winger Van Graw who sprinted 56 meters where he was tracked down by the Warrior Fullback, where he made a beautiful pop pass from ground to Senior Lock John Darcy, who in full stride took the ball and fed Captain Christian Hunter for the Try.  Giuseppe Meola converted.  Not long af­ter that it was Graw again with a pop pass this time to Outside Center Dean Repetti who found pay dirt. The Warriors responded to make it 19-5. However, Lock Drew Brumley took a pass and blew through the defense from 46 meters out. Not long after that Meola executed a perfect grubber (a kick along the ground) which was neatly collected by Repetti for a beautiful Try – Meola converted. On the final play of the half the Warriors took advantage of a Costa miscue and converted to make the score at half 33-12.
The second half the Mustangs gave up a 77 meter run and another score to make it 33-26. However, the Costa boys regained their composure and went back to Repetti who took a pass from Tavai 13 meters out for the score and a "hat trick" …Meola converted. Shortly after that it was Tavai himself who perfectly executed a perfect "over/under" play for a Try from 19 meters. The final score of the day came once again from Repetti as again collected a kick, this time from 41 meters out.  Meola converted to make it a 52-26 final.
The win evens the Costa record at 2-2 heading into their bye week. Meanwhile the JV side will be on the road at Tesoro HS for a 7s tournament on Saturday, January 25, 2020 for a 3:15 kickoff. The boys will have at least 3 matches that day.