Mira Costa Girl Ruggers Open Season 3-0!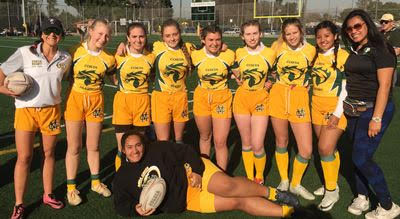 The 2019 edition of the Mira Costa Lady Ruggers opened the season by sweeping at View Park. Traveling with only 8 players and on occasion playing with only 5, the girls showed ferocious tackling, great speed and tremendous heart in route to 3 consecutive wins.
The first match was against host View Park. Following the kickoff the two sides traded possessions, although all in the View Park half. The Mustangs had the ball on the 22 meter line when the Knights were called for a penalty. Taiana Fonua alertly quick tapped and blew past the defense for the Try. Ashley Brownsberger converted. Minutes later it was Browns­berger from 42 meters from a Camile Boll pass. Ashley followed that with a 38 meter burst from rookie Cecelia Morriss' timely pass. Brownsberger converted 19-0 at half. Cece earned the right to "shoot the boot" as she opened the second half with a Try of some nifty passing by Ashley and T. The Knights got on the board late for a 26-7 final.
The next match pitted the Mustangs against a good side from Lakewood HS in what turned out to be a thriller. Costa opened the scoring with some beautiful passing from "Princess" Sophia Vaughn to Brownsberger to Fonua with Morriss finally finding paydirt. However the Lancers responded quickly to make the halftime score 5-12. A few minutes into the 2nd half Brownberger found a loose ball from 61 meters out for a score and her own con­version to tie up the match at 12 all. The Lancers again answered to make it 12-17.  With time running out the Mustangs were playing some tenacious defense which resulted in a fumbled ball. Boll alertly picked the loose ball and scored from 24 meters. To tie it up at 17. Browns­berger added the conversion to give the Mustangs a thrilling 19-17 come from behind win.
The 3rd game of the tournament was against View Park in a shortened match due to time constraints. The 2 sided were extremely fatigued nevertheless Costa won 19-15.
It was the best day in Costa Girls' Rugby history as they won all 3 matches. It was truly a team effort for Coach Ali Taylor's side as despite not scoring, Sienna Negrinelli, Emily Guerra and Alyssa Boras did a great deal of the hard work tackling, rucking and playing fan­tastic team rugby. Great job Ladies, we are proud of you!