Costa Ruggers Take On La Costa Canyon On Senior Day!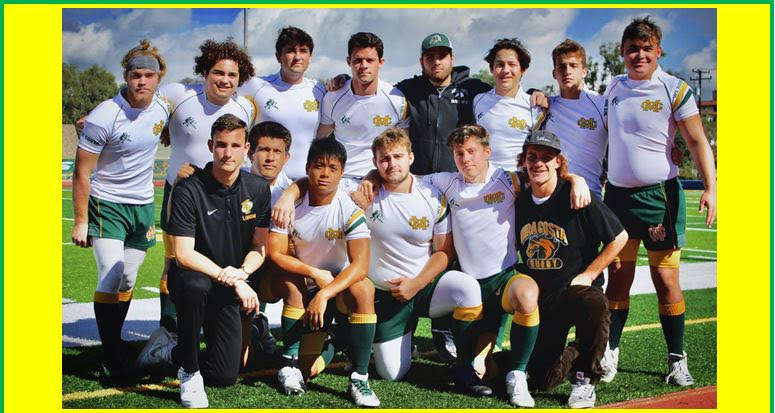 The Mira Costa Rugby team hosted La Costa Canyon on Senior Day, and the two sides put on a tremendous back and forth show for the fans in attendance.

The Mavericks, from La Costa Canyon, have had a solid program for years and they are a formidable team. The Mavs opened the scoring with a Try, 5 minutes into the game, however with 24:14 left in the half Winger Tony Cascadden took a nice pass from Fullback Giuseppe Meola from 14 meters out to tie up the match at 5.  7 minutes later the Mavs #15 found paydirt to drive the score to 5-10. Following the kickoff the sides traded possessions when Lock Drew Brumley, with perfect timing, picked off a LCC pass and raced 72 meters for the tying Try. Sen­ior Prop Tomy Underraga converted to put the Mustangs up 12-10.  The lead was short lived as the Mavs added a Try and Penalty Kick for a 12-18 halftime lead.

The second half found the Mustangs cleaning up the numerous penalties that they were called for in the first half as they went on the offensive. From 22 meters out it was Brumley again and Underagga with the conversion to give the Mustangs a 19-18 lead.  Not long after Senior Fly-half Aiden Martinez added a penalty kick to extend the lead to 22-18.

Nevertheless the Mavs again answered with a corner Try by their Winger on the east touch line to drive the score to 22-23 with 8:53 left in the match. The Mustangs refused to quit and drove the ball down to the Mavericks 11 meter line.  With 4 minutes to go the Mus­tangs got what looked like a huge break as the Mavericks were called for a penalty right in front of the posts, for what looked to be a very easy penalty kick, which the Head Coach was screaming for from the sideline. However, that is what makes Rugby such a great sport, unlike football in which the coaches administer the game and the players are more like chess pieces, Rugby is a players game and the players make the decisions (good or bad). There are no timeouts or huddles to hear what the coach wants. So the Mustangs instead of opting for the easy kick decided to instead try to power it into the Try Zone vs. a much more physically impos­ing LCC side.  The decision was a critical mistake as the Mustangs were repulsed at the 8 meter line and never came closer. The time expired and the Mustangs were left with a very disap­pointing end to Senior Day 22-23. The 1-5 Mustangs will travel to San Diego on Saturday as they close out their regular season against a very good Torrey Pines team.