Mira Costa Girls finish regular season with a thriller!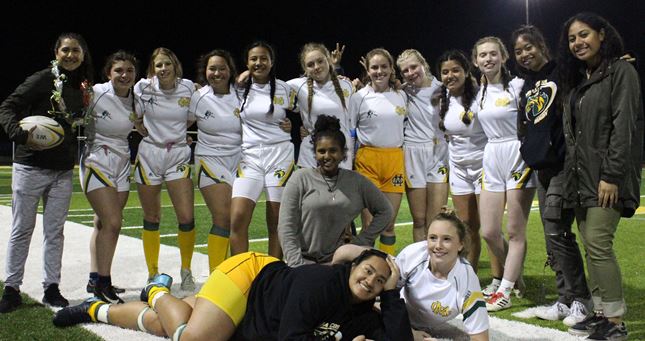 The Mira Costa Lady Ruggers finished their regular season on a spectacular note in their only home match of the season.  The ladies had 3 matches, two against the very formida­ble Carson Colts. The Carson Colts are really the South Bay Spartans masquerading as a le­gitimate high school program, however, it is nothing of the sort. These girls have been playing together since age 5 and only about half the team attends Carson HS.
The first match came against the Carson A side and the match was no contest at all. The "Carson" girls are extremely skilled, athletic and physical. However the second match against the B side was tied at halftime 5-5 as the Mustangs were playing toe to toe with the Colts. Nevertheless, the Colts don't like winning and in the second half the B side became a A and B side as sportsmanship took a hit so "Carson" could come away with a 5-27 win.
The last match of the day came against a very well coached Poway (San Diego) HS team. The 2 sides traded scores. A Mustang score came on a spectacular break by Camille Boll. Another Costa Try came thanks to a very alert play by Alyssa Boras (the first of her ca­reer) earning her the right to "shoot the boot" which she did with great hesitation but complet­ed the age old rugby tradition nonetheless. The score tied the score at 19.  With 3 minutes left in the match Ashley Brownsberger took a pass and blew past the Titan defense for a 72 meter Try and with her own conversion made it 26-19. The two sides traded possessions and on the final play of the match a Poway back picked a loose ball, avoided two Mustang tacklers to score a Try to make it 26-24. With all the pressure of the game being on the line the young la­dy very calmly dropped kicked the ball through the uprights to tie the match at 26 all. De­spite the tie, both teams hugged and congratulated each other in a fine example of Rugby sportsmanship. The Costa girls made great strides this year and the program is on the rise!