The Mira Costa Lady Ruggers continued to impress as they win 2 out of 3 matches at Lakewood HS!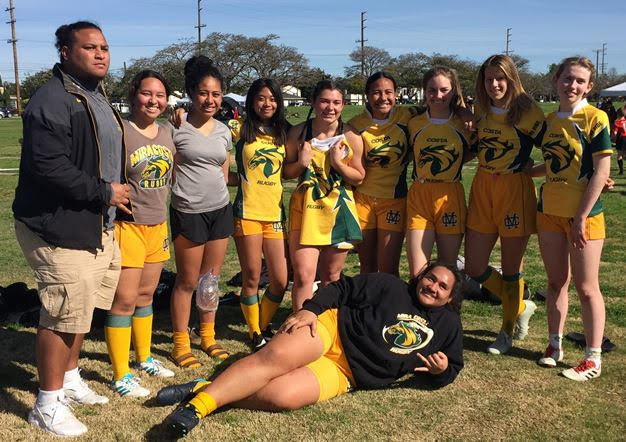 The Mustangs opened up against an extremely formidable Carson Colts side.  The Colts are extremely experienced (most of whom have been playing rug­by since age 5) and they are a physically imposing lot. The Colts pretty much had their way with the Mustangs as they won 29-12.  The Costa scores came courtesy of Senior Ashley Brownsberger, as she used her speed to blow by the Carson de­fenders.
Game 2 was against their friends from View Park.  The Knights used to dominate the Mustangs, but not any longer.  The Costa girls used great defense and found the Try Zone often as they won 19-10.
The final game of the day pitted the Lady Mustangs against the host, Lake­wood Lancers. It was a high scoring and back and forth affair.  Both teams used their speed and took advantage of mistakes to pile up the points.  However, it was Senior Taiana Fonua who took a nice off-load and drove in the final 17 meters for the game winning score 35-32.
Next week the Lady Mustangs will be home on Friday, February 2 @ 5 pm