Costa Ruggers Prove To Be Great Hosts As They Give Away Game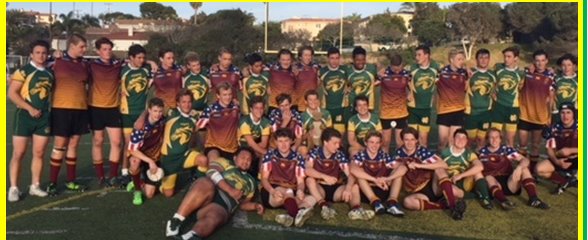 The Mira Costa Rugby team hosted their 3rd international touring side, the second from Australia, as Oakhill College from Queensland visited Manhattan Beach.

The Mustangs got up early as Prop Tommy Undurraga hit from 22 meters on a penalty kick to give Costa a 3-0 lead.  After the kickoff the Mustangs regained possession and were again pressing the issue against the much more experienced Aussies. Following a couple of phases the Aussies were called for an offside penalty.  Lock PJ Leilua to a quick tap and drop in from 12 meters for the score.  The con­version failed but the Mustangs led 8-0.

Oakhill finally managed to break a solid Costa defense with only 7:12 left in the half to drive the score to 8-7. However, not long after the restart the Mustangs made a mistake and when you play a very good team mistakes will almost always result in points for the opposition. That's exactly what happened as Oakhill con­verted and the halftime score was a very respectable 8-14.

Following the second half kick the two sides traded possessions. However, the Mustangs soon began driving the ball deep into Aussie territory. A penalty was as­sessed to Oakhill and Captain Jonah Tavai took a quick tap and hammered the ball home for a Try. Undurraga converted and Costa was back in the lead 15-14.

Oakhill secured the ball following the kick and after a couple of phases they were soon back on the attack. The Aussies managed to get a corner Try to put them up 15-19. With less than 10 minutes to go the Costa boys put together a physical drive as they were able to matriculate the ball from their own 28 all the way down to the Oakhill 2 meter line. As it appeared that Costa was about to get the go ahead and possibly the winning Try a critical mistake was made. An unfortunate aspect of American Rugby is that the vast majority of players have football instincts which don't usually translate well on to the Rugby pitch. A Mustang attempted to bull his way into the Try Zone instead of off loading to a wide open teammate for an easy score. Instead Costa fumbled the ball and it got scooped up by Oakhill and re­turned 98 meters for another Oakhill Try and a 15-26 lead. Captain Tavai scored off another penalty from 9 meters—Undurraga converted—the score 22-26. Unfor­tunately Costa made another lack of experience error as a deep kick was mishan­dled and the Aussies converted to drive the final score 22-33.

That was the final match of the Costa International Season and although the Mustangs were unable to beat one of the touring sides, they still gained valuable playing time as most of the playing time was handled by the underclassmen.