Costa Ruggers Competitive vs. Toowoomba of Australia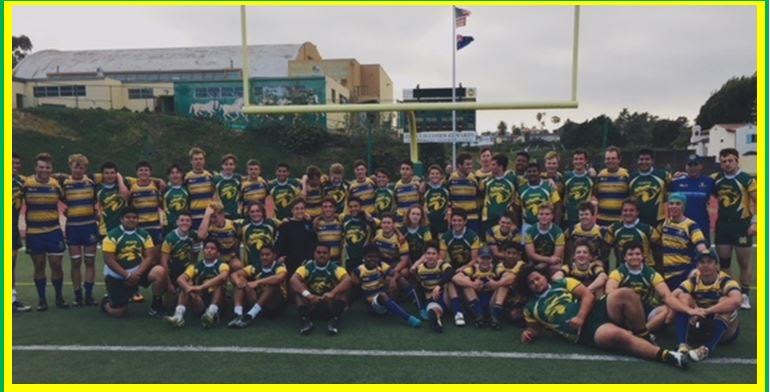 The Mira Costa Rugby team, back from spring break, showed some big im­provement as they were extremely competitive vs. a very good Toowoomba Gram­mar School from Queensland, Australia. Playing in their 10th match in 2 weeks, the Aussies found the boys from Costa to be a very physical lot.
Toowoomba got on the scoreboard early, only 4 minutes into the match, to go up 7-0. As Costa JV Head Coach Hammer commented, "Well, that's an improve­ment from the St. Edward match" in which the Mustangs gave up the first score on the opening kick. About 8 minutes after that the Aussies scored again for a 14-0 lead and what looked like a blowout was about to occur. However, Costa started to settle down and play their game. Captain Jonah Tavai started to take control of the game. The Mustangs used a very strong wind to flip the field with a deep kick, which put the Aussies deep into their own territory. Following a ruck, the ball squirted loose and Tavai picked it up and hammered his way into the Try Zone for a Costa score, although the conversion failed. With time running out in the half, Cos­ta was again on the attack as they drove deep into Toowoomba territory. It was Tavai again who found the ball and drove it to the 9 meter line where he alertly of­floaded to the Mustang Fly-half for another score just before the end of the half making the score 10-14.
However, the second half exposed the fact that while Toowoomba is in mid-season form the Mustangs are not…in fact, far from it. The much more fit Aussies, despite having trouble advancing the ball, did manage to take advantage of the very fatigued Mustangs' errors, converting them into quick scores to hand Costa a 31-10 loss. Nevertheless, it was a spirited and competitive match that was extremely bene­ficial and fun for the two teams regardless of the score.
The two teams were great examples of the Rugby Culture as sportsmanship was in massive abundance. Following the match the two sides shared dinner togeth­er, exchanged gifts and gear, swapped contact info as well as rugby stories. As the Toowoomba coach remarked, "Is this the greatest game in the world? Here we are visiting from the other side of the world, play an extremely physical game for 70 minutes and then sit down together as friends for life. Truly amazing!"
A great day for all, and all were better off for being part of it