Costa Ruggers Play At The Birthplace of Welsh Rugby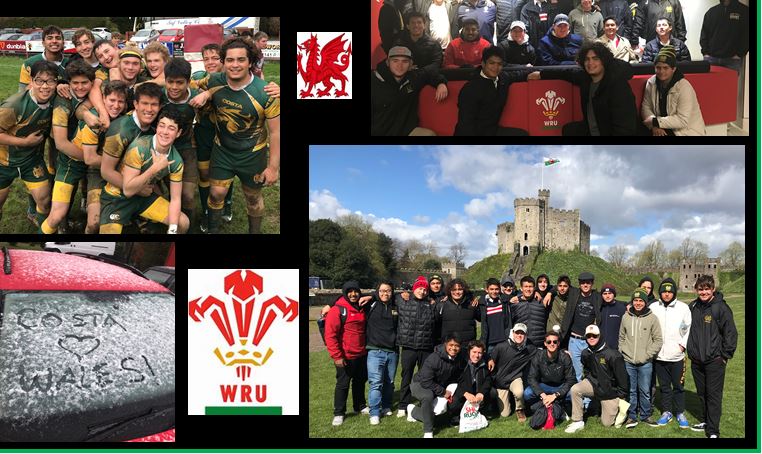 The Mira Costa Mustangs traveled to Lampeter, Wales, which is the site of the birthplace of the rugby in Wales. The Mustangs took to the same pitch which saw the first match ever played in Wales, in 1875! To add more to the flavor the boys woke up to a light snowfall which by game time had turned to hail and freezing rain.  Some of the Costa boys had never even see snow be­fore let alone play in it.
The boys from Lampeter School were a lot more comfortable in the elements and it showed early as they managed to pile up 35 unanswered points.  The Mustangs tried to use their speed in the backline to their advantage as they did manage to control the ball most of the half but without results. The second half the Mustangs altered their game plan and completely dominated the half as they kept the ball in the Forward pack.  The Costa Forwards soon found themselves to be very comfortable in the Welsh slop. Forward Captain Luke Mohr led the charge as the Forwards used Forward drive and Forward drive to matriculate the ball down the pitch. Inside Center Slade Gordon took a short pass from 3 meters out for the first Try. Not long after the Forwards again were using their "pick and go" Forward drives toward the an­cient Try zone. Luke Mohr grounded the ball for a score. The balance of the half was dominat­ed by the Costa ruggers but due to the sloppy conditions and the mass of human bodies the ref­eree missed two additional scores leaving the boys from Manhattan Beach with a 42-10 loss. However they won the second half and on one of the most historic pitch's in the world.