Costa Ruggers Making News in the United Kingdom!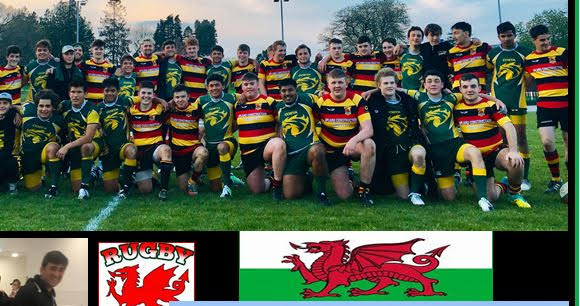 The Mira Costa Mustangs landed in London, England and after a brief tour the city they traveled to Carmarthen, Wales to play 3 matches in 5 days. The first match saw the Mustangs taking on the Carmarthen Quins. The Quins have been playing rugby since 1875 and have a thick history of success. The match was played in the Carmarthen Velodrome which was opened in 1900 and is the oldest concrete Velodrome in Europe.
The Mustangs took the pitch with a depleted side as a stomach virus has been making its way through the team. Nonetheless, the Mustangs played well against the #3 side. The Quins opened the scoring 6 minutes into the match and again scored 14 minutes later with some tre­mendous ball handling. Not long after Prop Tomy Undurraga hit an amazing 41 meter penalty kick from 41 meters out to put the Mustangs on the board and a 10-3 deficit. However, right be­fore the half the Quins put up 7 more points for a 17-3 halftime score. The 2nd half was pretty much all Carmarthen as the Quins used their skills to their advantage as they piled up 41 points. Fly-half Evan Anderson converted another penalty kick midway through the half mak­ing the final 41-6. Following the match the Referee stated "that was the cleanest match I've ever officiated" as both sides displayed great sportsmanship in fine Rugby tradition. Also, in Rugby tradition the two sides had dinner, exchanged gifts and jerseys and just enjoyed making friends that span the ocean.
The boys next take on Lampeter School—the birthplace of Welsh Rugby.
Between the matches the boys train and get to tour the country of Wales.