Costa Ruggers Wrap Up Tour Of Wales!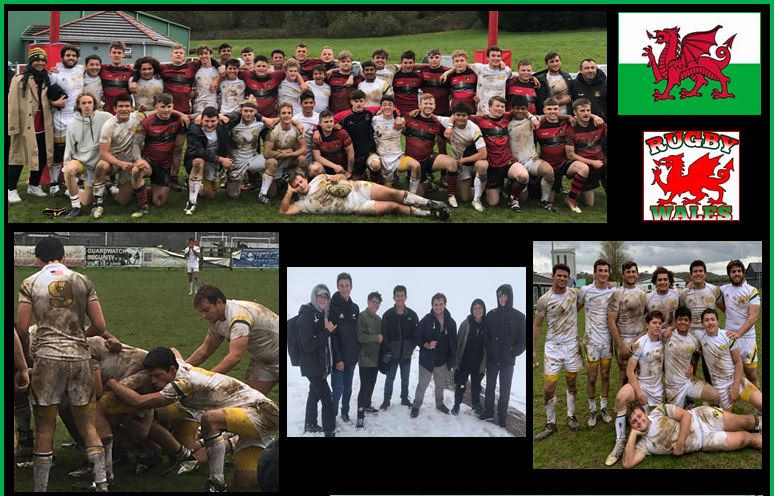 The Mira Costa Mustangs traveled to Carmarthen, Wales to take on the Carmarthen Athletic in the heart of Welsh Rugby. In fact, 8 of the starting 15 on the Championship Welsh National Team were from Carmarthen. As that was not enough to challenge the Mustangs, they were playing their 3rd match in 5 days, and dealing with a bad stomach virus that had managed to infect over half the team during the tour.  Nevertheless, the boys from Costa played the best they had all week. The Mustang Forwards took complete control of the match from the start as they continually used their forward drives to push the ball into Carmarthen territory.  How­ever, despite controlling the ball for virtually the entire half, the Welsh defense was stout. The Mustangs just couldn't break through. The Athletic managed to eventually get to the corner and found paydirt. The second half saw the Mustangs fighting hard again but had little in the tank as the Athletic finished off the Costa Ruggers 31-0.
Despite going 0-3 on the tour, the boys played with great ferocity and tremendous skill. Captain Jarem Cortez did a tremendous job in representing Mira Costa Rugby as well as our school and country at all events. Forward Captain Luke Mohr was fantastic in leading our very senior laden forward pack. Slade Gordon and Evan Anderson did the same with the backline.
Although the scores were a bit lopsided, the Welsh were nonetheless extremely impressed with the quality of play by the Mira Costa Ruggers. To show how excited the Welsh were to host the first ever California Rugby team to visit Wales, Coach Dulgarian was even interviewed on BBC radio. The Welsh were tremendous hosts and the Mustangs have become lifelong fans! Special thanks to Mitch Gordon and Carwin Bebb for organizing this fantastic rugby tour.