Costa Football Highlights!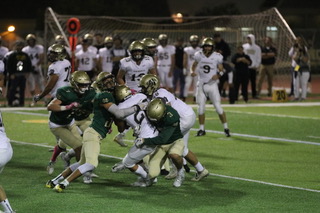 The Mustangs came up short against Palos Verdes in a hard fought battle marred by turnovers that limited Costa's scoring.  Trailing 15-9 mid-way through the fourth quarter, the Mustangs were still looking for the win before a slew of turnovers sealed their fate and a 34-9 loss.
Costa took no time rebounding against a tough Peninsula team at home, jumping out to a 14-0 lead at half led by a suffocating defense and scoring strikes from junior quarterback Sam Whitney to sophomore Kayle Marsh and senior Jackson Fischer.  After falling behind 21-0, Peninsula mounted an impressive comeback tying the game at 21-21 before Costa responded with a scoring strike to junior Thomas Southey and another TD from Fischer off the run.  The Panthers continued to fight before succumbing by a final 35-27 tally.
Tradition struck again as players and families staffed the infamous Costa Football Tri-Tip booth at the Hometown Fair. They sold approximately 1,200 sandwiches, which is about 75 sandwiches an hour!
Thank you to those who stopped by the booth, we appreciate your continued support!