Costa Football celebrates Homecoming with big win!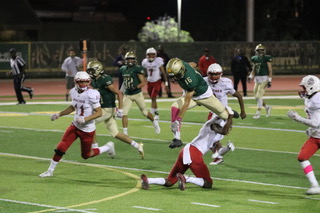 School spirit abound, the stadium was packed with Costa students, parents, alumni and community to celebrate Homecoming. The Mustangs rallied around the hype of the night. With Homecoming Court announced, cheerleader and dance teams performing, and band playing, the Costa boys outplayed Centennial in an overwhelming win, 48-6.
The last home game is next week against rival Redondo. Come on out and support the Football team!
Let's go Green & Gold!