Don't miss the upcoming Winter Choir Concerts!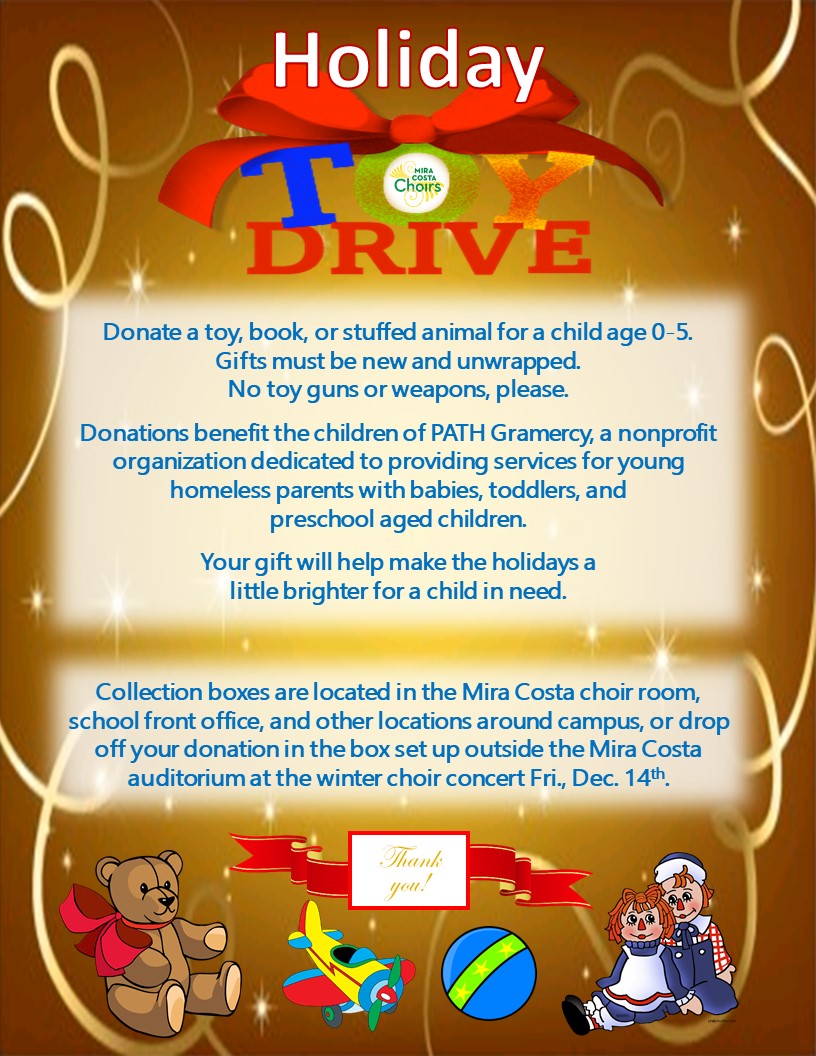 Winter Concert – This Shining Night 
Mira Costa Choirs has been quite busy and is getting ready to move into its Winter Concert, This Shining Night. The concert will be performed in the MCHS auditorium on Friday, December 14th, at 7:00 pm. This year's concert showcases our four curricular choirs and two after school a capella groups. The evening is a mixture of classical and holiday music. $10 suggested ticket donation at the door. Students and seniors free. Don't miss this wonderful night of choral singing. We look forward to sharing the talents of our amazing young singers with you. Come see This Shining Night!

Mira Costa Choirs Annual Toy Drive
Please consider donating a new, unwrapped toy, book or stuffed animal for a child under the age of 5 to the MCHS Choirs annual toy drive. All gift donations go to the children of PATH Gramercy, a nonprofit organization dedicated to providing transitional housing and services to young single parents with babies, toddlers, and preschool aged children. Donations may be dropped off in one of the collection boxes set up in the Mira Costa choir room, school front office, or other locations around campus. There also will be a collection box set up outside the Costa auditorium during the MCHS choir concert on Friday, Dec. 14th.
Because we know you have many opportunities to make worthwhile contributions and donations this time of year, please feel free to contribute to this toy drive only if it doesn't conflict with your other charitable commitments. However, if you're looking for a worthy cause to support this holiday season, please consider donating a toy to this drive. Your gift will help make the holidays a little brighter for a child in need.
Choral Union Update
On November 12th, Choral Union traveled out to The University of Redlands for the High School Women's Choir Festival. This year they participated in the morning session with 12 other women's choirs from across the region. Last to sing on the festival they performed beautifully receiving rave reviews from the adjudicators. Comments included, "such a gorgeous sound," and our favorite, " I could listen to you all day!"  Thanks to our wonderful singers from Choral Union. You represented us so well.
Vocal Ensemble News
Vocal Ensemble sang again this year at the annual Manhattan Beach Pier Lighting on November 12th. Bringing traditional carols to their program, they sang right before the lighting of the pier. Thousands of people were gathered and were thrilled at their performance. Congratulations Vocal Ensemble…another wonderful performance.
Vocal Ensemble is performing on the Mira Costa Orchestra Concert on December 7th. The concert begins at 7:00 pm in the high school auditorium. They will be performing "And The Glory Of The Lord" from "Messiah" by G. F. Handel with the Chamber Strings. You will not want to miss this, and it is a preview of the second performance that will be given on the Mira Costa Choirs winter concert, This Shining Night, on December 14th. Only, this performance will be fully staged. Come see both performances and support our amazing Mira Costa musicians.
Our annual performance for the Neptunian Women's Holiday Luncheon is coming up December 12th. This event is such a wonderful performance. Vocal Ensemble will be performing several of the concert selections as well as a holiday carol medley. We want to thank the Neptunian Women's Club for their support of Mira Costa Choirs.