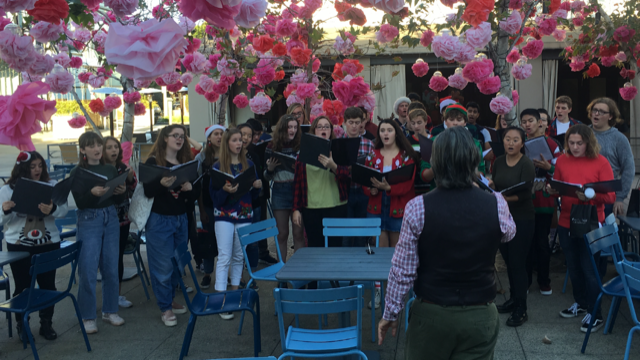 2nd Annual Choir Mattress Fundraiser
On Saturday, November 10th, the Mira Costa Choir Department hosted its 2nd annual choir mattress fundraiser. Selling brand new, brand name mattresses at savings of up to 50% off retail, the event drew South Bay residents and members of other local communities to the Costa cafeteria-turned-mobile showroom. Thank you to all the students who helped get the word out about the fundraiser, and to all the parents, families, and friends who purchased mattresses. Looking forward to next year's event!

Vocal Ensemble Update
On Friday, December 7th, Vocal Ensemble took the stage as guest performers at the Mira Costa Orchestra Concert, performing their rendition of "And The Glory Of The Lord" from "Messiah" by G. F. Handel with the Chamber Strings. The choir sang beautifully to the accompaniment of the string ensemble. Thank you to Peter Park and the MCHS orchestras for inviting Vocal Ensemble to participate in a magical night of combined choral and orchestral music.

On Saturday, Dec. 8th, Vocal Ensemble students participated in their annual caroling event in downtown Manhattan Beach. The afternoon began with VE singing for a crowd gathered at the Metlox Plaza. Then, breaking into smaller caroling groups, the students strolled the streets of downtown MB singing for local businesses and their customers. Many thanks to the City of Manhattan Beach for partnering with the Costa Choir Department to bring such festive holiday caroling to the business owners and customers of downtown Manhattan Beach, and for their generous donation to the choir department.  And thank you to the parent chaperones for assisting, and to the Vocal Ensemble students for once again performing so beautifully.  A wonderful time was had by all!

On Wednesday, December 12th, Vocal Ensemble sang for the annual Neptunian Women's Club holiday luncheon. This was the 11th year Mira Costa Choirs have performed for this event. Singing several concert selections and a holiday carol medley, VE's performance was hailed by the audience as "the best ever!" Congratulations to Vocal Ensemble on their exceptional performance, and thank you to the Neptunian Women's Club for their support of the Mira Costa Choirs.

Mira Costa Choirs Winter Concert
Friday, December 14th, was the annual MCHS Choirs winter concert, This Shining Night, in the Mira Costa Auditorium. This year's concert showcased the four curricular choirs and two after school a capella groups. It also included MCHS Band Director Joel Carlson, as well as members of the Mira Costa Chamber Strings, as guest accompanists on select pieces; and additionally, it featured the choreography by Billy Rugh. Many thanks to Mr. Rugh, Mr. Carlson and to the Chamber Strings students and MCHS Orchestra Director, Peter Park, for their wonderful contributions to the event. It was an amazing evening of choral singing, movement, and instrumentation, and we could not be prouder of the Mira Costa Choirs and their unforgettable performance of This Shining Night.
Choir Department Holiday Donation Efforts Help Families in Need
Thank you to all the Mira Costa families and friends who donated new, unwrapped toys, books, and stuffed animals to the Choir Department's annual toy drive.  Collection boxes were set up in the school front office, choir, drama, and orchestra rooms, and also at the choir winter concert on December 14th. Donated items were delivered to PATH Gramercy, a division of PATH (People Assisting the Homeless), a non-profit organization benefitting young, single-parent families with children age 0-5. We are so fortunate to be part of a wonderful community of thoughtful and involved parents and amazingly talented students, and we thank everyone for their compassion and generosity.
Spotlight Competition

Four Mira Costa choir students reached the second round of live preliminaries in the Los Angeles Spotlight competition. The Spotlight competition is part of a scholarship and arts training program which empowers students by emphasizing preparation, courage, critical thinking and perseverance while providing an invaluable opportunity for students to hone their skills. Training includes personalized feedback, master classes with world renowned artists, performing arts workshops, and more. $100,000 in cash scholarships are awarded each year to Spotlight students. In the past, Mira Costa Choirs has had two winners: Hannah McDermott in Classical Voice and Darynn Dean in Non-Classical Voice, with Julia McDermott winning also in Non Classical Voice from the Mira Costa Drama Department. Here are our singers from this year who made it to the second round of live preliminaries:
Maggie Cubillos Non-Classical Voice

Ella Dabney Classical Voice
Logan Rice Non-Classical Voice
Hannah Ryan Non-Classical Voice 
Congratulations to these students for advancing to this level of competition!