January update for Wrestling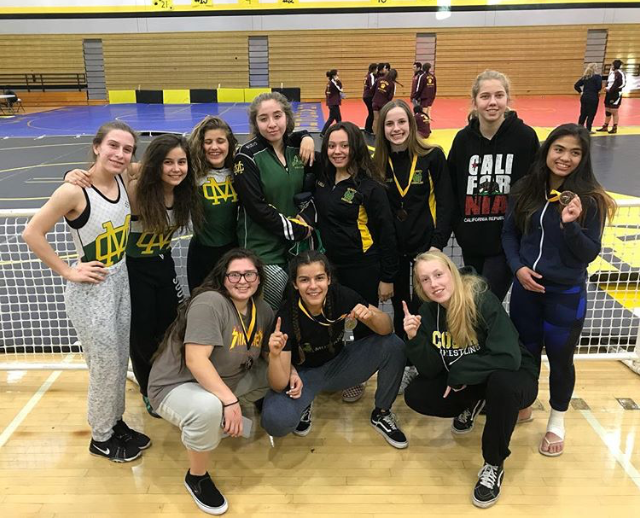 The Girls Wrestling team competed in the West Torrance tournament on January 13th. This was a Varsity tournament and the girls did great. Congratulations to the team and to the following girls who placed:
Sasha Medvidovic (Sr) – 160 lbs – 1st Place
Cali Sheldon (So) – 106 lbs – 3rd Place
Alyssa Nocum (Jr) – 116 lbs – 3rd Place
Viviana Ramirez (Jr) – 189 lbs – 3rd Place
Fiona Thomas (So) – 150 lbs – 4th Place
On January 17 the Boys beat Santa Monica 60-12 at a home meet at Mira Costa. The match of the night was between Tyler Gordon from Costa, and Sakamoto from SAMO at 154 lbs. Both are state-ranked wrestlers and Gordon outpointed Sakamoto 6-5. There were also wins by both Freshmen in the lineup. Carter Buckley pinned Rayna at 108 and Andrew Chaney won by a decision of 6-0 over Johnson. The Seniors continue to lead the team with pins: Mitchell Halverson at 128 lbs, Will Curtis at 147 lbs, Daniel Beneflah 160 lbs and Jamie Krigsman at 197 lbs. An exciting match was when Sophomore Nick Strizzi was losing 4-2 with time running out and hit a roll, putting Raita from SAMO on is back for the pin.
The girls also dominated, winning the girls match
Overall the team won 5 out of 7 JV matches, and 5 out of 8 Freshmen matches.
On January 18th the team wrestled Beverly Hills and won 44-30. Beverly Hills HS is ranked 8th in CIF and were a very good team. They were tough at the light weights winning 5 out of 6 matches.  Costa dominated the upper weights winning 7 out of 8 matches.  Seniors, Mitch Halverson, Will Curtis and Hanul Kim led the team with pins.  Junior, Tyler Gordon won by technical fall, 21-4.