The Mira Costa High School Boys' Water Polo Team are the 2019 Bay League Co-Champions!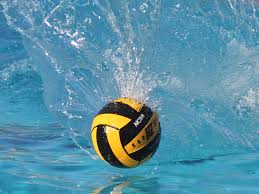 The Mustangs have won the league every year since 2012. Mira Costa and Palos Verdes have shared the Bay League title since 2016.
Mira Costa Boys' Water Polo is undefeated in CIF-SS play to date. After defeating Damien High School in the first round (11-10), the Mustangs went on to win the Quarter Final Game by beating the 3rd ranked Woodbridge Warriors (8-7). Coverage of the Quarter Final Game can be found in this post by DIGMB and this article in the Daily Breeze. This was the seventh straight win for this years' Varsity Team with the current record for this season now at 20-10. The current CIF Southern Section Quarter Final results and Semi Final match ups are listed here in the Los Angeles Times.
The Boys' Water Polo Team will face San Clemente in the Semi Final CIF-SS game on Wednesday, November 13 at Woollett Aquatic Center in Irvine at 5:00PM.