Costa Girls Volleyball off to a Stellar Start! #5 in the Nation and Climbing…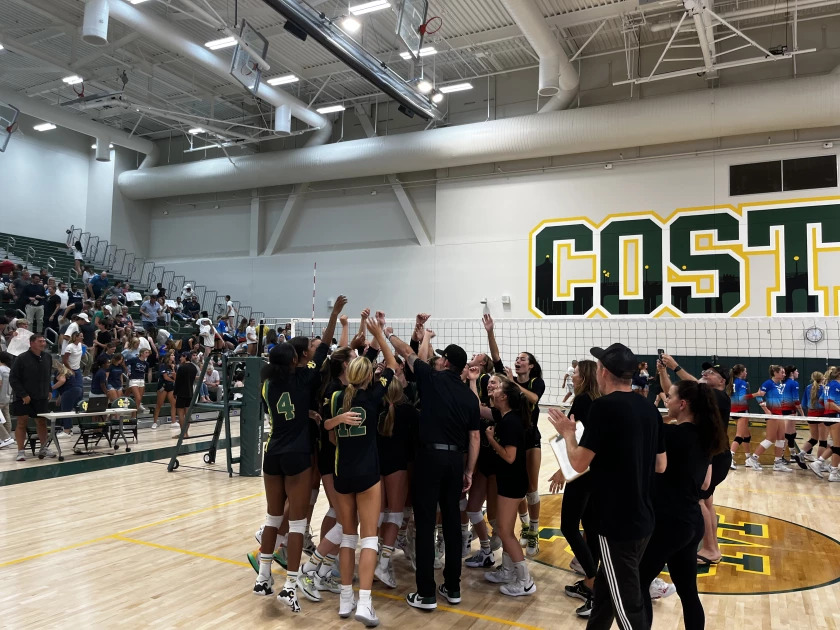 The Costa Girls Volleyball team is off to an incredible start this year! After Varsity won the prestigious Ann Kang Tournament in Hawaii, all three teams (Varsity, JV and Frosh/Soph) beat perennial powerhouse Marymount in their home opener on September 1st, earning the Varsity team a #5 National Ranking. As Head Coach Cam Green says, "It's a good starting point, but we are going to play our way to the top." Meanwhile, the future looks bright for the Mustangs as the JV team took First Place and the Frosh/Soph team took Third Place at the annual Redondo/Costa Molten JV Tournament which drew top teams from all over Southern California.
Come cheer for these amazing Nationally-Ranked athletes at our upcoming home games: 9/23 vs. Culver City; 9/28 vs. Peninsula; 10/3 vs. Santa Monica; 10/4 vs. PV; and let's PACK THE HOUSE for SENIOR NIGHT at our final regular season home game 10/13 vs. rival Redondo! CIF-SS Playoffs for Varsity begin the week of October 15–we hope to see you at those critical games, too!
Please support our program by dining in or ordering out at Lil' Simmzy's at the Point in El Segundo on 9/20, and Pitfire Pizza in downtown MB on 9/28. Mention Mira Costa Girls Volleyball Fundraiser during checkout! Thank you!