Boys Tennis Wins DIV 1 CIF Championship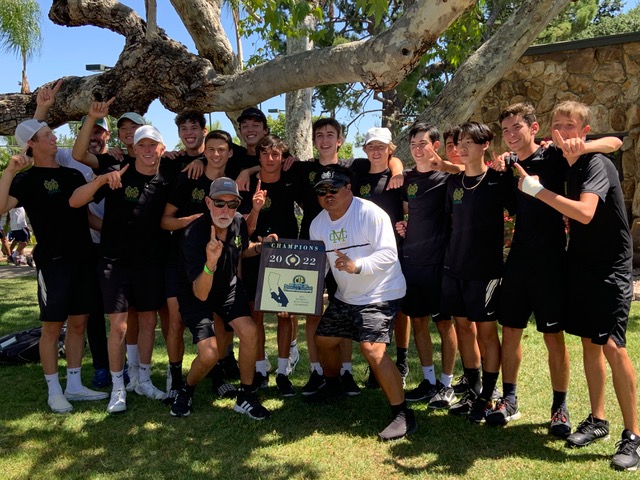 After finishing 4th place in a very strong and competitive Bay League, Costa Boys Tennis received an "At-Large Bid" to compete in the Division 1 playoffs.  They started their playoff journey seeded at #3 and a 13-5 win on the road over Great Oak High in Temecula.  Round 2 was another away match versus La Cañada.  In an extremely tight match, Costa found themselves tied 3-3 after the first round, and then 6-6 after the second round.  The match finished 9-9 with Costa winning on games 77-71.  Next up was finally a home match against Northwood.  Costa played strong tennis all match and won 12-6, which advanced us to the semi-finals against #2 Portola.  With another home match and a great crowd cheering on the Mustangs, Costa was victorious in what was another extremely exciting match winning 10-8!  For the Championship, we found ourselves playing against a team we know very well, Loyola, at The Claremont Club. Costa played Loyola earlier in the season and edged out a close win on games.  We knew this match would also be close, and hard fought!  After the first round, Costa swept the singles and Loyola swept the doubles for a 3-3 tie.  Round two was a repeat, another sweep in singles for Costa and doubles for Loyola.  Going into the third round we knew we had a chance to win on games if it ended 9-9.  Once again, singles swept and we were also able to get our only doubles win of the day for the outright championship win of 10-8!  Congratulations the entire team on your hard work, an exciting CIF run and ending the season with our first CIF Championship since 1976!
More tennis news~  Mustangs Kelly Giese (singles) and Tanner Chen & Will Lokier (doubles) were invited to play in the prestigious The Ojai tournament April 21-23 in Ojai.  Will and Tanner made it to the round of 16 in doubles, when they unfortunately had to retire due to injury.  Kelly made it all the way to finals beating the #1 and #3 seeds along the way.  As usual, Kelly played amazing tennis, but lost in the finals.  It was still the best showing Mira Costa has ever had at The Ojai.
For the Bay League Individual Championships, Kelly Giese and Will Lokier represented Costa in singles, and the partnerships of Will Lokier & Cal Porter and Ethan Crowley & Nicholas Wong represented our doubles teams.  Unfortunately the doubles didn't have the best seedings, and lost in their first rounds, respectively.  In singles, Will made it to the semi-finals, where he lost a close match against the eventual winner.  Kelly made it to the finals, falling short against the same player.  We want to wish Kelly the best of luck when he plays in the CIF Individuals for singles this week!
Our JV team had an absolutely outstanding year!  The were the undefeated Bay League Champions and also winners of the varsity First Serve Tournament in March! The Team finished with a 22-1 record (there only loss was to a varsity team in a tournament).  In the JV Bay League Individual Championships, Ethan Dover was champion in singles, winning 8-0!  It was an all Costa final for doubles with Dylan Hughes and Tarik Hossain edging out Ben Nicholson and Brent Torres with an 8-6 win!  Congratulations to the entire JV team on an incredible season!