Boys Tennis Ranked #9 in CIF Division 1!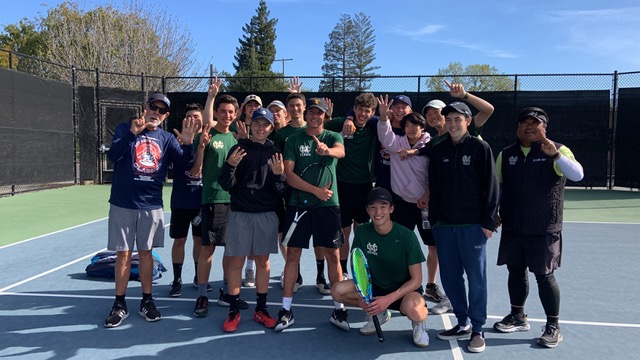 Boys Tennis has been busy on the courts since their opener on 2/15.   Varsity started off with a 6-0 run winning matches against Fountain Valley, Loyola, Brentwood, Winward, Los Alamitos and Marina.  Unfortunately the streak ended when we faced a strong Harvard-Westlake team, losing 6-12.  On March 10, the team traveled to Menlo Park, Ca for the Bay Area Classic Tennis Tournament where they were the defending champions from 2019.  Amazing tennis was played by all our players, and the team ended up 7th out of 16 teams.  Bay League started on March 14 with a big 12-6 win at home against Culver City.  The week ended with two defeats against our toughest Bay League opponents, Peninsula and Palos Verdes, respectively.   Varsity is currently 7-3 overall, and 1-2 in Bay League.  This week they play Santa Monica at home on 3/22 and away at Redondo on 3/24.  Varsity then travels to Orange County on Friday to play in the prestigious All American Tournament showcasing teams from all over the United States.  Varsity is anchored by the stellar play of seniors Kelly Giese and Tanner Chen and sophomore Will Lokier.  
Our Junior Varsity team can't be stopped and they are undefeated in all their matches!  11-0 overall and 3-0 in Bay League.  This Saturday they will play in the varsity First Serve Tournament at West High.