MIRA COSTA SURF TEAM – NEW COACH LINEUP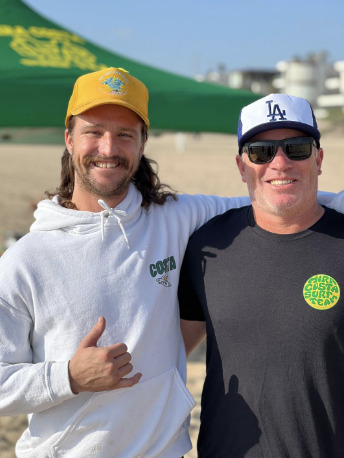 Coach Tucker O'Shia, a North Torrance class of 2011 alumni, started
surfing at the age of 6 and has committed his life and efforts to it ever
since. Tucker competed in the local Scholastic Series which led to then
competing in the South Bay Boardriders contests, where he also learned
to judge heats and has since become the head judge as of 2021.
Tucker has worked for multiple surf/skate brands, and he held it down
at ET Surf for over 10 years. He is known for his true love of the water,
an obsession with body mechanics, and an ability to match you with the
perfect board. In 2020, Tucker became the Mira Costa assistant surf
coach and has since taken on the head coach role – a title he is humbled
by and greatly respects.
Tucker is looking forward to a long and successful run with the
Mira Costa Surf Team and is excited to encourage the next
generation of surfers to realize their full potential. Not only as
individual athletes, but as contributors to the long-standing love of
surfing in the South Bay.
Coach Steve Meidroth "Mido" a Mira Costa class of 1989 alumni, is a
proud Mustang who is passionate about South Bay surfing and carrying
on the legacy of Costa's competitive surf program. Steve brings
tremendous value to Costa Surf with his extensive surf knowledge and
experience, combined with his background coaching youth sports. He
hopes to help team members become stronger surfers, learn the skills
needed to gain a competitive advantage, build confidence, and overall
be more knowledgeable about the sport and good citizens in the
water.
In his early years, Steve competed in NSSA's and local surf contests. At Costa, he was lucky enough
to be a part of the inaugural year of the school's surf program in 1986/1987. After graduating, he
went to college at UCSB, where he was a member of the surf team. His continued passion for
surfing led him to a career in sales/marketing for surf/skate/snowboarding brands for many years.
Steve has surfed dozens of locations around the world including in Australia, Hawaii, Indonesia,
Mexico, Dominican Republic and Costa Rica.
Steve is known for his patience and professionalism as well as his humor. He is in awe of the school
spirit of today's students and looks forward to continuing to grow and build Costa's surf program
into the best in So Cal alongside Coach Tucker.