MCHS Surf Team prepares for Kick-Off Classic in October!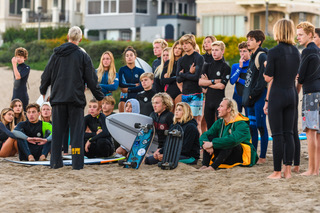 The MCHS Surf Team continues to run practice mornings starting at 6:30am at 26th Street in Manhattan Beach. Coach Geller is working hard to run heats among all competitors and the kids are surfing on another level.
The annual Kick-Off Classic starts the first week of October with the preliminary heats being run during the week before school. The finals of the KOC will be held on Saturday October 13 at El Porto in north Manhattan Beach.  The day will be filled with excellent surfing competition so come on down to the beach and cheer on our team!
Make sure you come out and support MCHS Surf at the Hometown Fair Beer Garden on Saturday October 6, 2018.  Also our annual discount card is for sale, $20 for 15 local merchant discounts including surf shops, food, and even a car wash.  Make sure to purchase one from any surf team member.