Costa Lady Rugby Team Opens Season with Crushing Win Over Warren HS
The Mira Costa Girls Rugby team opened the season with a crushing 25-0 win over the Warren High School Bears.
The 2022/2023 edition of the Costa Girls Rugby team is a very talented bunch of young ladies with the ability to do some major damage in their league this year. The girls are led by their Senior Captain Bridgette Lindblad. Lindblad who is new to Mira Costa this year is a very talented player with great Rugby knowledge. However, her leadership skills have proven to be the most important asset to the team. She is not alone as Seniors Zariah Honeycutt and Dayana Horta-Ramirez provide great support and physicality. However, the talent of this team might be coming from a very strong group of underclassman. Sophomores Kendal Herman and Allie Lindblad as well as Freshman Dora Tuitupou are rapidly proving to be excellent Rugby players.
The Ladies will take the pitch at Waller Stadium this Saturday in a scrimmage while the Boys Rugby team will do the same at home vs. Warren HS. The festivities kickoff at 1 pm. Come out and enjoy some great Rugby.
Upcoming game schedule:
Costa Rugby – 2022-2023 Schedule Boys and Girls_11_15_22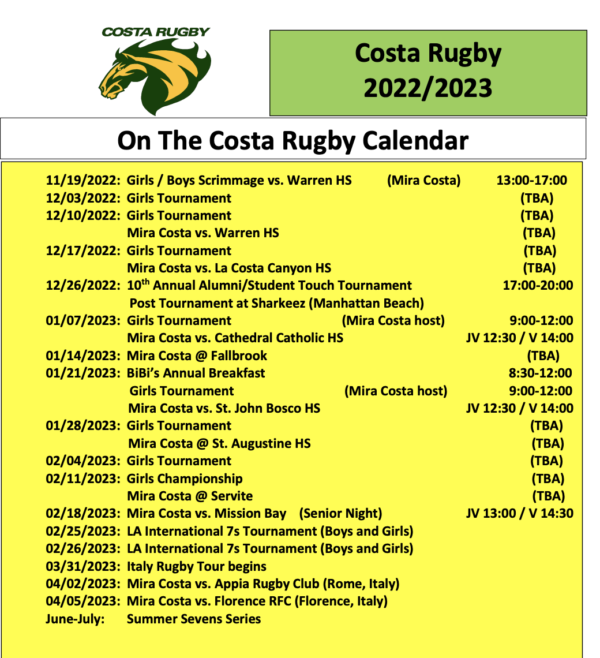 JOIN US AT THE 4TH ANNUAL RUGBY PANCAKE BREAKFAST FUNDRAISER ON JANUARY 21, 2023, 9am – 1pm AT WALLER STADIUM
See the flyer for more information.