The Mira Costa Rugby Team finally made it to Spain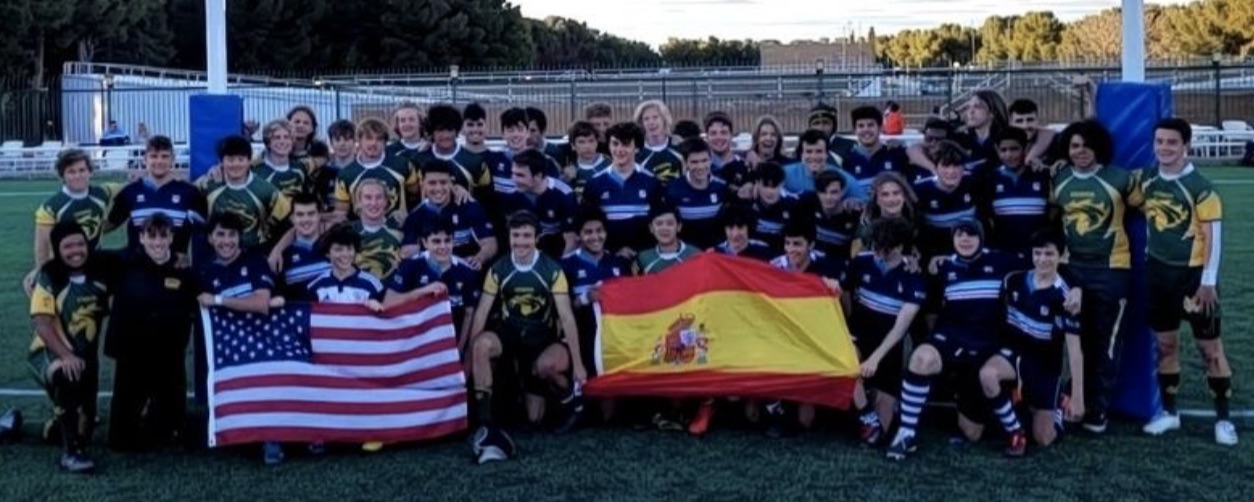 The 2020 trip, twice postponed due to Covid, at last took place.  With only 21 on the roster for the tour it would seem to be a daunting task for the Mustangs to play 3 matches and in 3 different cities.  To make matters worse the Costa ruggers only had 19 available to play which meant only 4 substitutes. The Mustangs are not one to shrink from a fight and they proved that although light in numbers they were up for the task.
Madrid was the first stop on the three city tour.  Only 16 hours after landing the Mustangs had their first match against Yuncos (Madrid) Quijote.  However, prior to the match the boys were treated to a real live "Running of the Bulls."  It was indeed a very interesting experience for the boys from the South Bay.
Nonetheless, a match was to be played and it was Scrum-half Nick Signorelli who got the scoring started for Costa.  The match became a seesaw battle as the Quijote matched score for score for the Mustangs. Despite the constant pressure from the Spaniards, this trip would see the emergence of the Costa Centers, Dean Repetti and Ben Nicholson.  The boys put constant pressure on the Yuncos' backline.  But it would be Number 8 Dondillon Rohrer who took control of the match.  Big D over the past 2 years has continually improved his game to the point of virtual domination.  Final score: Costa 32 – Yuncos 22.  It was the first ever victory for a Mira Costa Rugby Team on foreign soil.
Following the historic victory the Mustangs were treated to a tour of the ancient city of Toledo where they learned about the old Roman city that eventually became the capital of the emerging state of Spain where three of the major faiths, Christianity, Judaism and Islam managed to live together in relative peace for hundreds of years.
Next stop on the tour was Zaragoza the former Roman city dedicated to Emperor Augustus.  It also meant a showdown with the extremely powerful Fenix Rugby Club of Zaragoza.