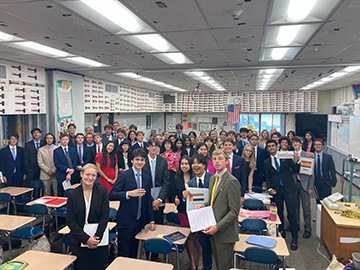 This year, Mira Costa Model UN more than doubled the number of students participating in Advanced Model UN, and has resumed it's busy local conference schedule, with SOCOMUN coming up at the end of this month, followed by conferences at Cerritos, Edison and UCLA in October and November. Our first international conference in 3 years is also happening in November in Berlin, Germany. We are thrilled to be able to participate! Travel conferences will continue throughout the school year to places like Washington DC, New Haven (Yale), Chicago, Berkeley and New York. It's an exciting time to be a part of Model UN at Costa!
Be on the lookout for some new, edgier MUN apparel and some great restaurant fundraisers coming up. In December, events include Mira Costa-hosted LAIMUN, one of the largest conferences in Southern California, along with our festive poinsettia fundraiser, happening just in time for the holidays.
We are looking forward to a great year, and also to seeing you at our dunk booth at Hometown Fair in October!