2022 All Bay League selects MCHS players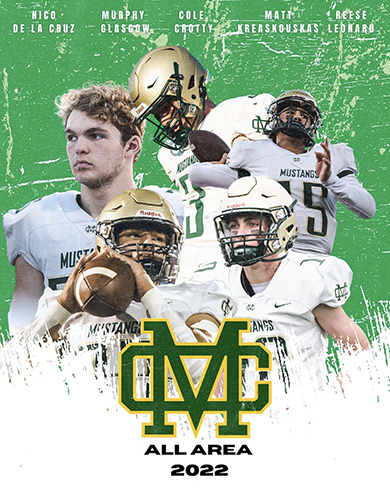 Congratulations to the Mira Costa High School Football Players who were selected for 2022 All Bay League.
1st Team Offense/Defense
Michael Sultemeier, Nico De La Cruz, David Burga-Donovan, Matt Kraskouskas, Cole Crotty, Cade Salceda, Murphy Glasgow, and Ty Culligan
2nd Team Offense/Defense:
Jack Clark, Reese Leonard, and Jacob Goldberg
Congratulations to those players also recognized in 2022 for All Area.
Newcomer of the year: Nico De La Cruz
1st Team Murphy Glasgow, Cole Crotty
2nd Team Matt Kraskouskas, Reese Leonard
Seniors selected for the All Star game, M Glasgow, J Clarke, C Salceda, M Kraskouskas, C Crotty, and T Culligan, will compete on January 28th at 5pm at El Camino College. Go Mustangs!