Costa Cross Country season begins!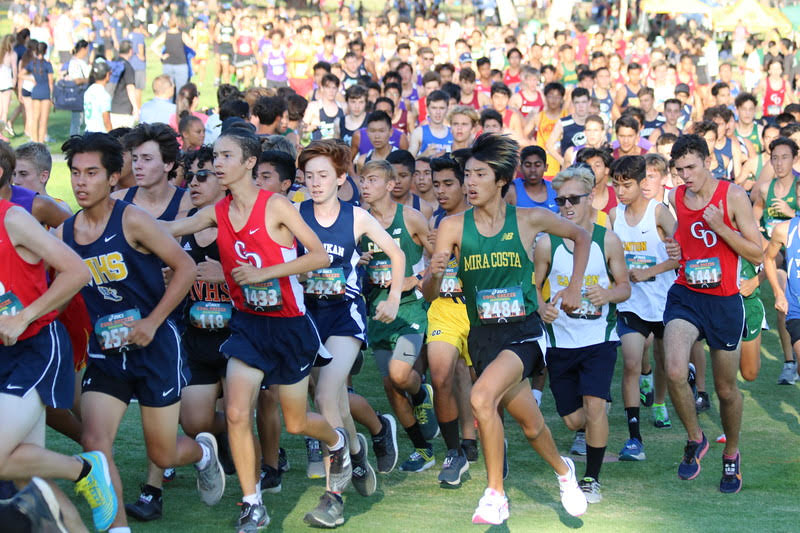 After working hard all summer, the Mira Costa Cross Country teams opened the season at the Palos Verdes Mini Meet on Thursday, August 29th, running a shorter 2 mile course instead of the traditional 3 mile distance. Costa athletes scored big, running against traditional powerhouses PV, Redondo and Saugus. Congratulations to all the student athletes and especially Billy Atkinson and Max Levin on their individual wins and Dalia Frias and Iyanah Samayoa on their 2nd place finishes. Team results can be found here.
Costa athletes continued to run strong in the Cool Breeze Invitational on Friday, September 6, where they competed against the best teams in Southern California. Congratulations to all of the MCXC runners!
JV Girls: The JV girls finished first, led by Ella Scalabrin in 3rd place, Carmen Mel in 4th place, Angela Diaz in 10th, Lucy Kosmos in 11th and Amanda Murch in 19th place.
JV Boys: The JV boys, led by Aidan Vellaca in 2nd, finished 10th.
Frosh-Soph Girls: The Frosh/Soph girls placed 7th behind the effort of top Costa finisher, Lucca Franz.
Sophomore Boys: Max Levin led the Sophomore boys to a 4th place finish.
Freshman Boys: The Freshmen boys, led by Drew Martin in 20th place, finished a strong 6th.
Seeded Races: Sundown Showdown
Varsity Girls: The girls varsity, against extremely tough competition, placed 4th, led by Dalia Frias' 2nd place finish.
Varsity Boys: Costa senior Billy Atkinson finished 1st to start off his senior campaign and power the boys' varsity to 3rd place.