Banner day at Bay League Finals for Costa Cross Country!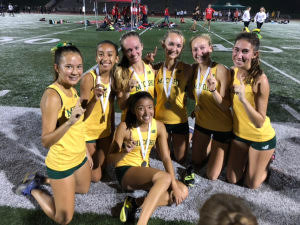 It was a banner day at the Bay League Finals last week with 4 of our 6 teams becoming 2018 Bay League Champions, and the other 2 teams capturing a stellar 2nd place team finish. 
 Varsity Girls took 1st place to become the 2018 Bay League Champions, led by individual champion Dalia Frias, Lucy Atkinson in 3rd, Brooke Inouye just a second behind in 4th (despite losing a shoe early in the race!), Pnina Tofler and Piper Newton closing well in 7th and 9th place. 
The Varsity Boys Team captured 2nd Place led by individual champion Cy Chittenden, Cole Gamble in 6th, Thomas Velvin in 9th, Cormac Carew in 11th and Alex Fiorito in 17th place.
JV Boys also became Bay League Team Champions led by Will Garrell in 2nd, JP Soares in 3rd, Blake Hampton in 8th, Caleb Hong in 9th and Will Beck in 14th place.
JV Girls won Bay League Team Champs led by individual champion Carmen Mel, Cara Chittenden in 2nd, Tia Pappas in 4th, Ally Doyle in 5th, Cassidy George in 7th and teammate Julia Vazquez barely a hair behind in 8th.
Freshmen Boys became Bay League Team Champions led by individual champion Nolan Parker, Seamus O'Meara in 2nd, Hatcher Johnson in 6th, Harrison Sanders in 9th, and Siguard Thune in 12th.
Freshmen Girls took 2nd place led by Kayla Kershaw in 2nd, Lucca Franz in 4th, Marissa Andrade in 9th, Sarah MacDonald in 11th, and Anna Iantuono in 13th.
Bay League Finals FULL RESULTS
Our varsity teams now prepare for CIF Prelims in Riverside on Saturday, November 10th.