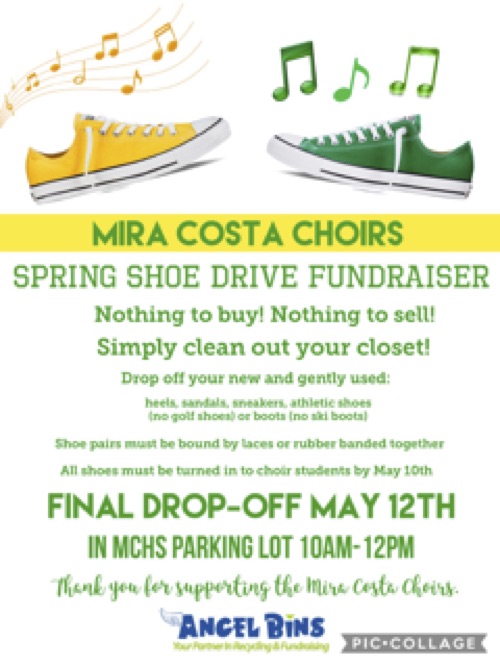 MCHS Choirs Spring Shoe Drive – Please Donate Your Unwanted Shoes
Announcing the MCHS Choirs Second Annual Shoe Drive Fundraiser!
Nothing to Buy, Nothing to Sell!
We are collecting "gently used" shoes for Angel Bins, a service that will weigh and pay by the pound. All we need to do is collect, tie them together with rubber bands or laces and bring into the choir room. NOTE: no golf shoes or ski boots
Ask your family, friends and neighbors to clean out those closets and help support the Mira Costa Choirs!
Shoe Drive begins April 11th and continues until May 12th.
FINAL DROP OFF IS MAY 12TH at the MCHS parking lot from 10am – 12 pm.
Angel Bins collects and exports our shoes to developing countries meeting the demand for quality shoes at low cost, therefore deferring waste from landfills and creating employment opportunities in the US and abroad
Bring in those shoes! See the Flyer Below!
Contact: Kimberly Konis for questions or large pick up 
Spring Concert – Sing a Mighty Song! – Scheduled for Friday, June 8th
Don't miss the MCHS Choirs spring concert, Sing a Mighty Song! which is set for Friday, June 8th, at 7 pm in the Mira Costa High School Auditorium, 1401 Artesia Blvd., Manhattan Beach, CA.
With performances by all four curricular choirs and both after-school a capella groups, this is a concert which is sure not to be missed.
Suggested donation is $10 at the door for adults.  No charge for students, children, or seniors.
Please mark your calendars and join us for this amazing choral event.