February updates for Costa Choir!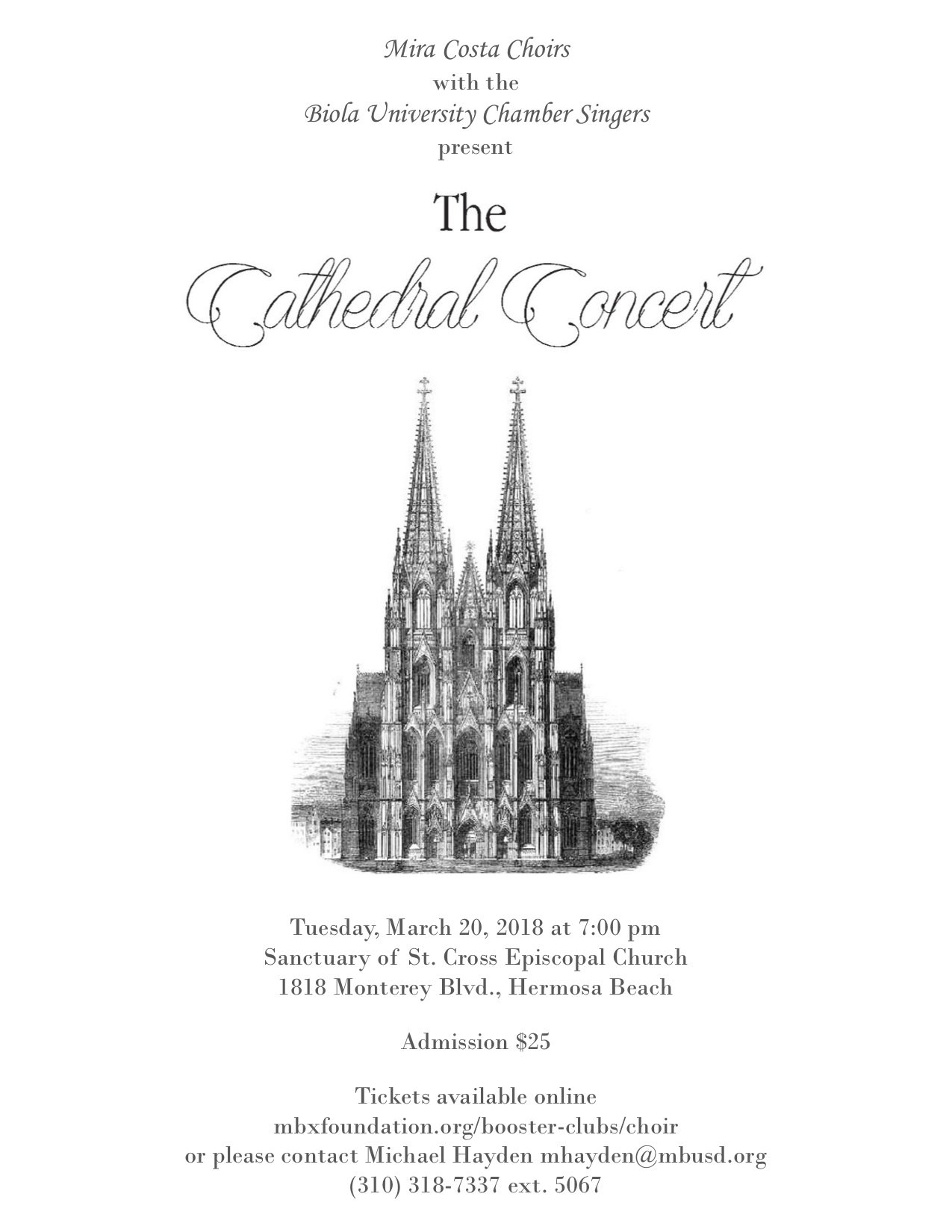 Mustang Pride Pins Now On Sale!
Purchase a Mira Costa Logo Pin and attach it to your backpack or give it to a friend! Great to wear to games or events or a cool gift that is easy on the wallet!
Logo pins are 1.25″ in size and available in Green or Yellow.  Each pin comes attached to a card with the letters MCHS at the bottom. Perfect for your backpack or as a gift!
Benefits Mira Costa Choirs.
Pins are $3 and available at the MCHS Student Store, online click here or by contacting Kimberly Konis .
Mira Costa Choirs Present The Cathedral Concert
Please mark your calendars and join us for the Cathedral Concert, featuring Mira Costa's Vocal Ensemble and Advanced Women's Chorale, and welcoming the Biola University Chamber Singers.
Tuesday, March 20, 2018
7:00 pm
Sanctuary of St. Cross Episcopal Church
1818 Monterey Blvd., Hermosa Beach, CA
This is an annual fundraiser for Mira Costa Choirs.  Admission $25.
Tickets available online click here ($1.25 additional processing fee), or please contact Michael Hayden  (310) 318-7337 ext. 5067.
This will be a wonderful evening of choral music. Please come join us and support the Mira Costa Choirs.
Mom's Night Out Tickets on Sale Now
Just a reminder that Mom's Night Out tickets are available online. Click here to get yours now!
5th Annual Mom's Night Out
at Hermosa's Comedy & Magic Club
Wednesday, March 14, 2018
Doors open at 6:30 pm.
Show starts at 8:00.
You'll have a great time at the event, and your ticket purchase will help support the Mira Costa Choir program.
Many thanks to Mom's Night Out organizer Michelle Weissenberg.
Any questions, please contact Michelle at 
Hope to see you there!