Cheer/Spirit
The Mira Costa Spirit Squad offers a unique opportunity for personal growth, leadership, and involvement in diverse activities. The attitude, dedication, and enthusiasm of the squad members are just as important as the skills involved in the spirit leading.
Members of the Spirit Squad must be committed to the highest level of athleticism, performance, self discipline, respect for Mira Costa High School and the community, personal exemplary conduct, and the performance of all responsibilities related to the pursuit of school spirit and pride. Furthermore, a Spirit Squad member must demonstrate a proven ability to balance academic requirements and demands with athletic, extracurricular and personal activities.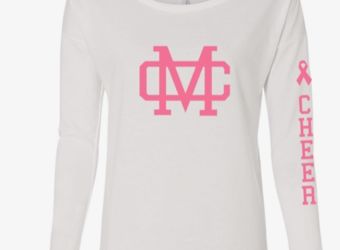 Costa Cheer Team is selling Breast Cancer Awareness shirts! 10% of proceeds will be donated to breast cancer awareness. Sizes are small, medium, large and available through October 2019. Click Here to purchase
Costa Cheer Team had a successful trip to The National Cheerleading competition in Orlando Florida.  Both JV and Varsity made it to the semifinals. At the event, there were 900 cheer teams from across the country competing, Congrats to both Costa Cheer Teams!