Mira Costa Wins Second Straight IBVL Championship!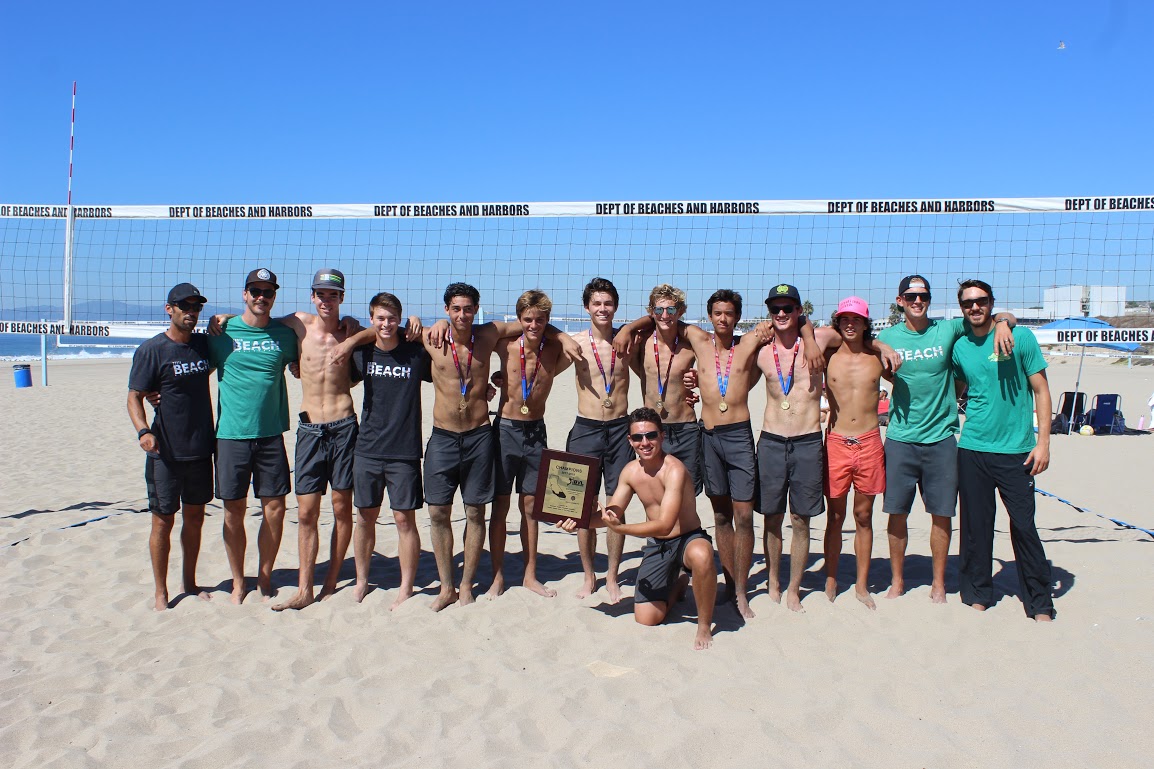 Mira Costa Boys Beach Volleyball played their last regular season matches on September 30, with all three squads defeating both of their opponents. Varsity and JV played Redondo Union High School and Palos Verdes High School, and Frosh-Soph played Loyola JV and Notre Dame JV.
With these wins, all three squads won their league title outright. Varsity won the Bay League, while JV won the JV Bay League and Frosh-Soph won the JV Mission League.
Playoffs began the first week of October. Costa Varsity entered the IBVL Championships (the equivalent of CIF) as the first seed and never let anyone forget it.
In the first round of IBVL play on Wednesday, October 4, Costa Varsity easily defeated Wildwood High School (from the Westside) in straights sets on all three courts.
Next up were the quarter-finals on Saturday, October 7, where Costa faced a strong Santa Monica High School. Courts 2 and 3 won in straight sets. Court 1 easily defeated their opponents in the first set (21-12), but lost in the second. However, with the other two courts having won, Costa was declared the winner of the dual (best of three matches wins), and Court 1 forfeited the tie-breaker third set.
Costa faced South Torrance High School in the semi-finals, where all three Costa teams won in straight sets.
The finals saw a match-up between Costa and perennial rival Loyola High School. Loyola had made it to the final by upsetting Palisades Charter. The good-hearted rivalry, with many Costa players having played alongside Loyola players over the years both indoor and on the summer beach volleyball circuit, created a great energy on the beach. Costa defeated all three Loyola pairs in straight sets and was declared the winner of the IBVL Championship for 2017.
Seniors Dane Johnson and Bobby Barkley played on Court 1, while senior Max Cajuste and sophomore Jack Walmer were on Court 2, and junior Thomas Krestchmer and sophomore Sam Collins were on Court 3. Juniors Chase Pinkerton and Adam Sevier and seniors Harrison Murphy and Christian Cavallo were alternates.
This is the second consecutive IBVL win for Mira Costa in the program's short four-year history.
As winners of their leagues, both JV and Frosh-Soph advanced to the JV Tournament of Champions. Costa JV emerged as the winner of the Tournament of Champions, while the Frosh/Soph team finished in third. This is also the second consecutive JV Tournament of Champions win for Costa.
Playing for JV in the Tournament of Champions were: Court 1: freshman Ben Coordt and sophomore Luke Snyder, Court 2: sophomore Dain Johnson and freshman Kalani Rusher, and Court 3: juniors Ethan Young and Collin Mattis. Alternates were sophomores Colin Ramey and Gavin Gasperov.
Playing for Frosh/Soph in the tournament were: Court 1: Kyle Johnson and Julian Seivert, Court 2: Garrett Carver and Camden Miner and Court 3: Max Gordon and Christian Penczar. Alternates were Troy McDonald, Cole Collins, Will Coppedge, and Luke Sevier. All players were freshmen.
This is the first time in the program's four year history that Costa has won the league title at all three levels as well as the Tournament of Champions and IBVL Championship.
The season concludes next weekend with the Varsity Pairs Championship, where Costa has qualified three teams (the max allowed).