Costa Boys Basketball is finalist in Torrey Pines Holiday Classic Tournament!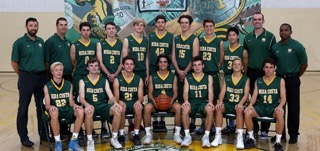 The Mira Costa Varsity Boys Basketball placed 2nd in the Mayors Division at the Torrey Pines Holiday Classic Tournament in San Diego.  It was a solid effort by the Mustangs, who just fell short to Sonora 62 to 53 in the Championship game.  Morgan Clark scored 25 points in the semi-final win and was named All-Tournament.
The JV Team hosted the Winter Classic at Mira Costa over the break.  They also showed great effort coming out of the tournament with 2 wins and 2 losses.  The 2 losses were very close, only falling short by 1 point to Santa Monica and 4 points to Palos Verdes.
The Frosh/Soph team is ready for their Bay League conference!  They played well throughout their pre-season winning 3/4 of their games!
Come support Costa Basketball and don't miss out on exciting and competitive basketball, giveaways, DJ, and halftime contests!
Click here: varsity poster 17-18 (1) to view the Varsity schedule and what is in store for the Bay League Season!
Upcoming home game:
Youth Night 1/19 – Costa vs Inglewood
Area youth – wear your school spirit wear or logo and get in free to Costa Basketball Youth Night!  Fun giveaways, DJ, and halftime contests!
to see the flyer