MCHS Marching Band & Colorguard are the Western Band Association Champions!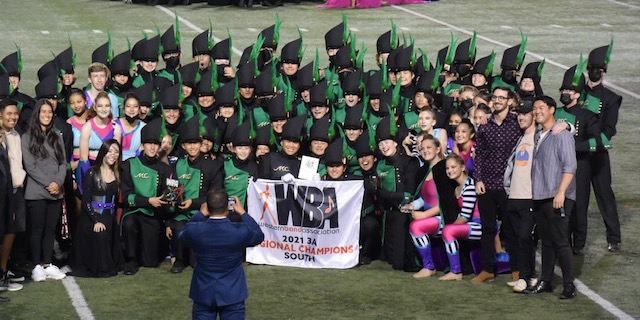 Huge Congratulations to the Marching Band and Colorguard on earning 1st Place at the Southern California Regional Championships for the Western Bands Association along with the awards for High Music and High Effect! Without a doubt this is the most significant competitive placement the Band has ever been honored with and it is a testament to the hard work of the membership, staff and parent volunteers throughout the season!  
Up next is the MCHS Parade Team on the nationally televised Hollywood Christmas Parade, only on the CW – please watch and check us out! If you want to come in person tickets are still available for the evening of Nov 28th online at https://thehollywoodchristmasparade.org/ in the grandstands or just bring a blanket and pick a place to watch us along the route. 
We are also so excited to be able to bring the show back home one more time at our full program Stadium Concert on December 3rd. This concert will feature our Championship Marching Band & Colorguard, the Parade Team, our Grammy Award Winning Concert Ensembles & Jazz Band. It will be a wonderful night to remember and get everyone ready for the holidays. Please come join us at Waller Stadium! More information available at https://miracostabands.com/
The MCHS Bands Program is starting up their Winter Sports! For more information on Winterguard or Indoor Drum Line please reach out to .