All District Band Festival is coming up, plus more news!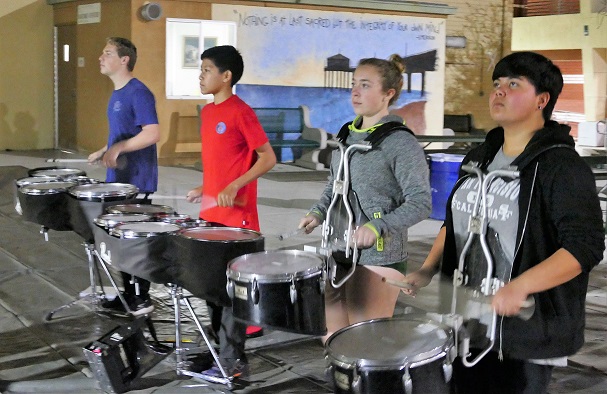 The All-District Bands Festival will be on Thursday, March 1 at 6:30 in the MCHS Auditorium. This concert will feature students from all the band programs in the district: elementary schools, MBMS and all the concert bands at the high school, as well as the Jazz Band and Marching Band. It is such an exciting concert and shows our talented students growth from their early beginnings to the accomplished musicians they become with the support of our district's music programs.
The MCHS Winterguard is hard at work on their Winter Season show. It is based on Steven King's "The Shining" and features a chilling and creepy soundtrack as well as prop doors and their show flags. They had their first performance in Bellflower on Feb. 3rd at a qualifying meet. Their next competition will be on March 3rd at Del Norte High School. We are looking forward to seeing how this young, and extremely talented, team will do.
The Indoor Percussion team is also off to a strong start with their Winter Show titled, "Rite of the Mountain Spirit". This Asian-inspired show features experienced percussion members as well as some newcomers. Their competitions start in March and we look forward to seeing this show that will feature taiko drums!
The Wind Symphony and Wind Ensemble groups are practicing for their trip to Sonoma to perform at a music festival at Sonoma State University from March 7-9. In addition to performing at the festival, students will visit San Francisco and take in some of the sights and attend a performance of the San Francisco Symphony.
Jazz 1 is getting ready for their trip to Mesa, Arizona in March (it is a busy month for us!) to participate in the Ellington Jazz Festival, while Jazz 2 has started bi-weekly rehearsals to prepare for performances in the spring.
Looking forward, the Eclectic Ensemble Fundraiser and Concert will be on March 23rd featuring Band and Orchestra students performing a more eclectic array of music in groups that they have put together, playing music they have chosen. This evening features dinner, from Buca di Beppo and Fritto Misto, in the cafeteria before the show and then a performance in the Small Theatre from the students. See the poster for all the details!
Congratulations to our Band Rotary Solo Winners!
9th/10th Grade Division Winds/Percussion
1st: Sam Liu–clarinet
2nd: Brandon Bui–bassoon
3rd: Alexandra Runnels — French Horn
11th/12th Grade Division Winds/Percussion
1st: Joseph Olivas–bassoon
2nd: Lauren Schlick–flute
3rd: Pleia Hall– clarinet
For more information about the MCHS Bands go to:
website: www.miracostabands.com
Facebook: Mira Cota High School Bands
Flickr: MCHS_Bands
Instagram: mchsbands
Twitter: MiraCostaBands@MCHSBands