September updates for Costa Marching Band and Colorguard!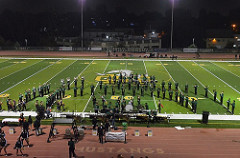 The Mira Costa Marching Band and Colorguard finished a full day of rehearsing last weekend, then played at the Hall of Fame game on Friday the 21st. They were proud to play for the esteemed alumni, and to also showcase the fabulous show "The Pack". They debuted one of our tree props on the field. The next time everyone sees the show, there will be a whole forest, all thanks to a group of amazingly dedicated band parent volunteers!
The marching band is preparing for their first competition at the South Bay Invitational Field Show on September 29th at West High School in Torrance. Please come and cheer us on! Tickets are $10 at the gate, and the band is scheduled to perform at 6:30pm.
The marching band looks forward to performing at the annual opening parade for the Manhattan Beach Hometown Fair on October 6th, and will be running a game booth during both days, so come on by!