Band
Under the direction of Joel Carlson, the GRAMMY® award winning Mira Costa Bands are part of the comprehensive music department at Mira Costa High School that stresses music education through performance. From the three Concert Ensembles to our Jazz Ensembles and Marching Ensembles, the Mira Costa Bands provide a breadth of opportunity to students to perform at the highest level of excellence.
All of our groups have been hailed by professional critics and adjudicators alike for their fantastic performances and advanced repertoire. Our Concert Ensembles were featured in their Carnegie Hall debut in Spring 2016 and our Jazz Band took top honors in 2017. Also, a whopping 40% of Mira Costa's National Merit Semi-Finalists for 2018 were band members.
The Band Boosters rely on parent volunteers, who are the behind-the-scenes heroes of our band programs. Our fundraisers, including candy sales at football games, a booth at the Manhattan Beach Hometown Fair each October, and others help fund our stellar program. We couldn't do it without you! For more information about volunteering, please contact us at 
Support Mira Costa Winterguard at Pitfire on Thursday, December 9th from 5pm- 9pm!
Support Mira Costa Winterguard at Rabano on Wednesday, December 22nd!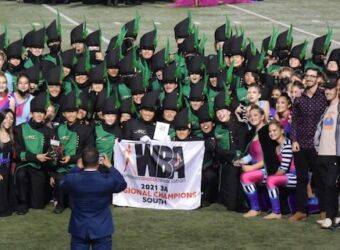 Huge Congratulations to the Marching Band and Colorguard on earning 1st Place at the Southern California Regional Championships for the Western Bands Association along with the awards for High Music and High Effect! Without a doubt this is the most significant competitive placement the Band has ever been honored with…
Keep reading