Lacrosse – Girls
Mira Costa Girls Lacrosse competes with Mustang Pride, Purpose and Passion. They win with dignity, lose with class and treat their sport with the utmost respect.  The team knows the difference between competitiveness and toughness, and when confronted with adversity, they embrace it!
The Lacrosse teams' goal is to foster a strong sense of community, teamwork, integrity, pride and personal achievement. Lastly, the student-athletes work toward their personal best both on and off the field.
Girls Lacrosse is a Spring Sport.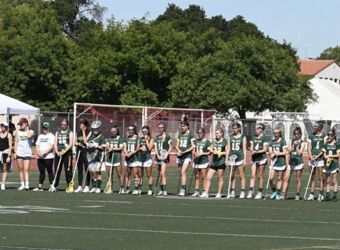 POSTPONED: K-8th Grade Girls' Winter Camp Please check back later in the season for a new date.
The Mira Costa Girls Lacrosse team completed its most successful season in school history, finishing with a 19-7 overall record and a #2 ranking in CIF after suffering a close loss to rival Marlborough High School in the CIF finals on Saturday. To get to the championship game, the Lady…
Keep reading
Picking up right where they left off last season, the #1 ranked Division 3 Mira Costa Girls Varsity Lacrosse Team continues to press their case to be counted as one of the Southland's elite teams. Led by freshman, Kate Donnelly and her team leading 33 goals, sophomore Sophia Delano (18…
Keep reading