Manhattan Beach Odyssey of the Mind* teams excel at Southern California State tournament!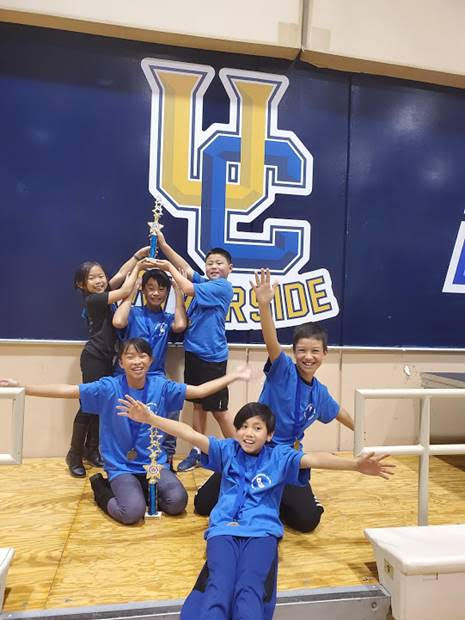 The Southern California State tournament for Odyssey of the Mind took place on Saturday, March 23rd.
The top 2 teams from each Divison/Problem are invited to World Finals. Due to Odyssey's tremendous growth, this was the first year California has been split into NorCal/SoCal tournaments (individually, each tournament still dwarfs most other state tournaments).
5 Manhattan Beach teams qualified from the LA Region to present their solutions at the State Tournament.
4 teams qualified to advance to World Finals with
2 teams capturing 2nd place finishes and
2 teams capturing 1st place finishes
The staff, family and friends are incredibly proud of all of the Odyssey students who participated at every level of the competition.
Listed below  are the teams, coaches, and results from the State tournament:
Summary of awards:
1st Place Division 1, Problem 4: Pennekamp, coached by Brian Fan
Charlotte Fan, Sierra Wolbert, Peyton Kuo, Zachary Green, Matthew Yap, Ty Ahrens
1st Place Division 2, Problem 4: MBMS, coached by Brian Fan
Ella Kim, Abigail Seo, Ashlyn Green, Luke Green, Brian Chiu, Andrew Fan
2nd Place Division 1, Problem 3: Pacific, coached by Terri Warren
Grace Swenson, Brandon Warren, Rosie Hoyle, Jack Ingram, and Oliver Stern
2nd Place Division 2, Problem 2: MBMS/WNS, coached by Andrea Custer
Miles Mchee, Shawn Oh, Allison Custer, Lily Stern, Maddie Johnson
Division 2: Problem 5 from MBMS/Chadwick (coached by Michelle Lautanen):
Kyle Johnson, Coco Johnson, Lauren Vick, Avery Ertman, Amelia Rizika
Once again, we'd like to express our deepest gratitude to the friends, family, and staff that helped make all of this possible.
Your MB Odyssey of the Mind coaches,
Kim Jones
Andrea Custer
Terri Warren
Michelle Lautanen
Brian Fan
*Odyssey of the Mind is an MBX School Connected Organization!