Join International Peace Day on Saturday September 21st!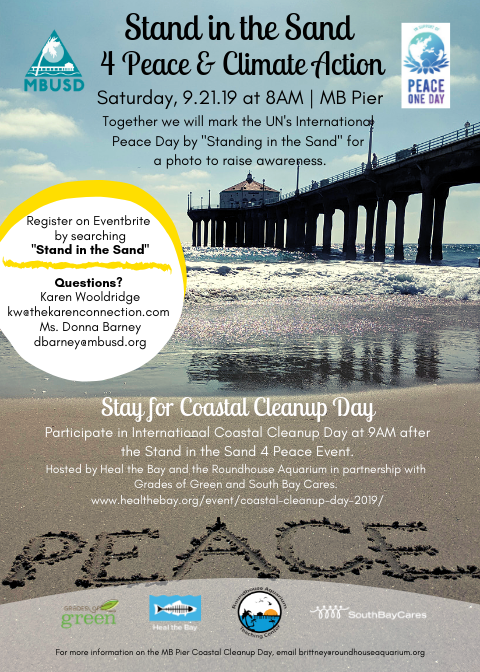 The South Bay community is invited to be part of a movement towards a culture of peace and tolerance in the family, in schools, in the workplace, in the community and ultimately in society at large.
Join with MBUSD students, teachers, administrators, and community members in spreading peace and positivity to the South Bay.
We will be observing International Peace Day on Saturday Sept. 21st by Standing in the Sand 4 Peace & Climate Action! By promoting the day and what it stands for, through our actions, we encourage more people to take action for peace in their own lives, positively impacting the lives of others.
The event will begin with everyone gathering at 8am on the pier, followed by the participants forming the word PEACE in the sand. We will capture the moment with an aerial photo.  After the event, we encourage everyone to stay and participate Coastal Clean-up Day hosted by our friends at Heal the Bay, Round-House Aquarium, Grades of Green & Southbay Cares from 9am – noon.